Our Enablers
Ensuring our people, income, technology and systems can continue making their vital impact and contribution.
VOLUNTEERING AND FOSTERING
Battersea could not exist without the help of our dedicated volunteers. Our volunteers donated 92,366 hours, and foster carers 50,492 hours in 2019, equivalent to 76 full-time staff working for Battersea for a year. From animal welfare roles to office and events staff, we strive to ensure that our volunteers are involved in all aspects of our work.
The number of hours contributed by Foster Carers was slightly higher than in 2018, driven by demand for cat fostering, and both dog and cat fostering at Brands Hatch. In 2019, 102 new foster carers were recruited, up 89% year-on-year. We were thrilled when a group of our volunteers were recognised with The Queen's Award for Voluntary Service in June.
This is the equivalent of an MBE for volunteer groups and is awarded for outstanding work to benefit local communities. Battersea's volunteers were recognised for their monthly visits with our dogs to the Royal Hospital Chelsea, an initiative which began in 2011. A wonderful relationship has developed between the neighbouring institutions and the monthly visits have become a highlight for the Chelsea Pensioners.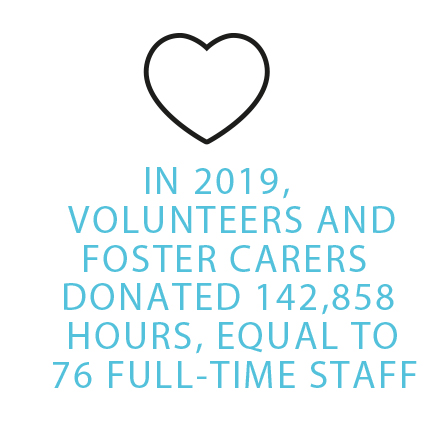 Battersea is committed to ensuring our staff and volunteers have the appropriate support, systems and tools in place to help them achieve their full potential. We continued to invest in learning and development for our Battersea people, with staff each receiving 2.9 days of 'off the job' training.
A key focus was on building emotional resilience, mental health and wellbeing. Training workshops for all managers on Managing Mental Health focused on supporting the mental health of their staff, while targeted training was delivered to staff in challenging frontline roles who interact with vulnerable people. We want everyone who comes into contact with Battersea to have a positive experience, so our Safeguarding Policy was enhanced to ensure it gives clear guidance and expectations on how Battersea engages with and supports staff, volunteers, vulnerable adults and children, and everybody we come into contact with through our work.
With 550 staff across three sites, and increased online rehoming and intake, our technology has to support new ways of working. In 2019, our IT team upgraded over 400 desktop computers to Window 10 and migrated all our servers to ensure needs are met.
2019 saw the highest ever year-end gross income raised for Battersea of £24.77m. We are so grateful to our supporters whose generosity enables us to continue our vital work.
Our Muddy Dog Challenge events travelled to new locations in Exeter, Cheltenham, Newcastle and Leeds in 2019 as its popularity continues to grow. Participants have almost doubled from 4,500 to 8,300 year-on-year, resulting in us raising £1.03m from the events. Our PawDraw Lottery has now recruited over 76,000 players, and our new Ultimate Showdown gaming product used new fundraising techniques, acquiring new donors and helping us spread our brand through a new live streaming service (Twitch gaming platform). Philanthropy and Trusts continued to perform strongly, and our ongoing relationship with People's Postcode Lottery (PPL) was a partnership that delivered £750,000 across the year. Our Corporate Partnerships Team secured two new partnerships for 2020, Regatta and Sure Petcare.
The Legacy team achieved record income of £17m in 2019, a huge success against a very uncertain economic backdrop and a flat housing market.