Dame Jacqueline Wilson: Rescues to The Rescue
07 AUGUST 2020
Over the past few months, our rescue pets have rescued us. The love and companionship they've provided, and continue to provide during this challenging time is more important than ever.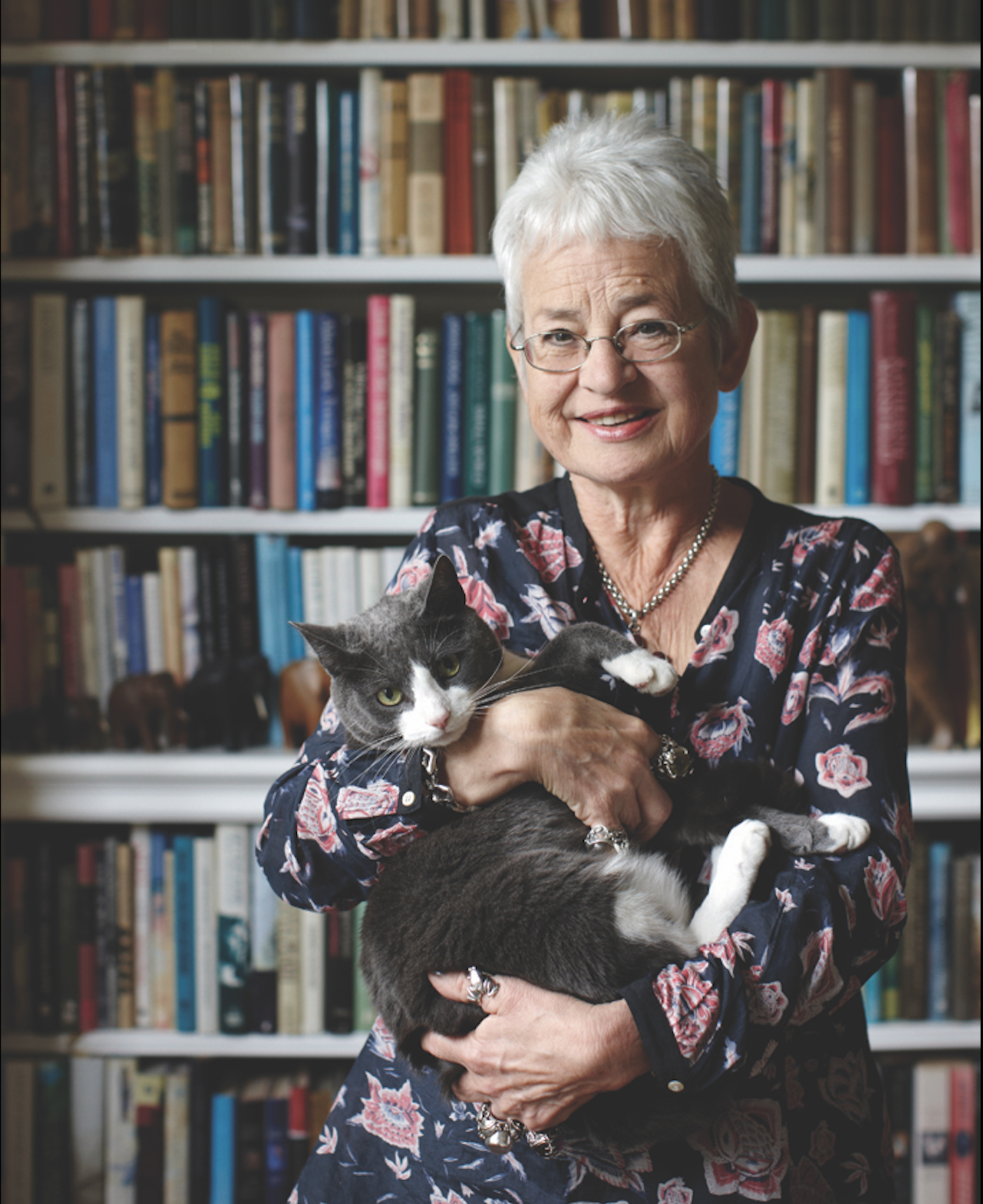 Battersea Ambassador, Dame Jacqueline Wilson, has shared her experience during lockdown with her Battersea dog and cat, Jackson and Jacob, in this exclusive blog.
"I have two wonderful Battersea boys: a shy serene cat called Jacob and a lively loveable little terrier called Jackson. Lockdown has made a real impact on both their lives – as it certainly has on mine!
It's been a joyfully positive experience for Jacob. He's now a stately gentleman of twelve, who keeps his grey and white fur in immaculate condition. He's dainty in his habits but a little demanding if he thinks it's dinner time. He'd be very happy if dinner time occurred on the hour, every hour, but we have to keep an eye on his waistline. He's changed so much since we discovered him at Battersea, a small timid kitten cowering away from everyone. He'd been found on a big estate, teased by little children, and now he seemed terrified of everyone.
He hid under the bed for the first week he was with us, only coming out for a nibble of food or a hasty scrabble in his litter tray. I sat on the floor chatting softly, sometimes even reading aloud to him, simply so he could get used to the sound of my voice. It took him a long time to relax and get used to us, and up until recently he's always been very shy with strangers, hurrying to hide whenever the doorbell rang. He's gradually learnt to tolerate special friends, and even allows a little stroke now and then, but he's happier when it's just us.
Therefore lockdown has been a joy for him, with no visitors at all. He can stride confidently round the whole house (though wisely skirting cautiously round Jackson) and when he pops out of his cat flap into the garden it's just as nature intended, a peaceful paradise. There's definitely a new spring to his step.
However, Jackson has drooped a little. He cannot understand why the world has changed. His greatest delight is greeting visitors with loving licks, his tail wagging. He bounces around them like a little ball, and jumps up beside them on the sofa – especially when they're given a biscuit with their cup of coffee. He's on red alert for other dogs whenever we go out for walks. He's generally very friendly with canine friends but he's even more interested in being stroked and admired by their owners. He looks genuinely baffled and a little hurt whenever anyone strides past him, oblivious, and doesn't tell him he's gorgeous. Imagine his horror now when people warily keep their distance, or even turn their backs on us!
So we've been paying him even more attention than usual ourselves, and as many people have found, lockdown has brought them even closer to their pets. We've made sure he's still had plenty of walks, even if we haven't been able to go far afield, and we've played all manner of games with him at home to give him lots of stimulation.
When I've been tempted to slump over my computer for too long, feeling tired and worried, the need to give him some fun and exercise has unfailingly cheered me up. If I really have to finish a piece of writing he'll often jump up on my lap, his warm cuddly body close to mine. It makes typing difficult but I don't care!
My Battersea boys have both been such a comfort. When I hear Jackson bounding up the stairs to find me, or listen to Jacob's deep purrs of pleasure whenever I stroke him, I feel happy and soothed. I'm sure you've all felt the same with your own animals. Battersea rescues really are the tonic we all need nowadays."
During these uncertain times, Battersea remains committed to helping every dog and cat that needs us, as we have been for the past 160 years. Now, more than ever, we need your help to keep doing this. Take a look at some of the different ways you can support us and join the growing community of proud rescue lovers by sharing your love for rescues using #RescueIsMyFavouriteBreed