The Odd Couples of Battersea
12 FEBRUARY 2021
This Valentine's Day, Battersea is looking back on some of the strangest pairings to have blossomed inside our iconic gates.
From cuddly kittens and lovable Labradors to little and large dogs falling for one another, Battersea has seen its fair share of friendships over its 160-year history. Over the years, we've played Cupid for so many dogs and cats. Not only have we helped find them their ideal human matches, but we've also seen animals find love in one another, too. Let's take a look at some of our favourite unlikely Battersea love stories, that show why every rescue animal is worthy of a second chance.
Barney and Ava
Ava was just a few days old when she was found as a kitten, abandoned in a London garden. Thankfully, she was rushed into Battersea where she was quickly cared for by our expert veterinary team.
Being so young, Ava needed to be fed every few hours and spent a lot of her time in the Battersea clinic office, where she met rescue dog Barney, who belonged to our Head Vet Nurse. The Labrador took his role of kitten-sitter very seriously and the pair became the best of friends. These days, Ava is living her best life with her new family.
Kitty and Buttons
Credit: Casey Gutteridge / SWNS
Kitty and Buttons hit headlines back in 2011 when the puppy-kitten duo formed a close bond. Kitty the cat was brought into Battersea's Old Windsor centre by a kind-hearted member of the public who found her alone in a garden when she was just one day old.
To keep the tiny kitten company, Battersea staff put her together with Buttons, the Jack Russell puppy, who had recently been born at the centre but was rejected by her mother as the runt of the litter.
The inseparable duo ate, played and slept together and it wasn't long before they found their happily ever after, and were rehomed together to a family in Colchester, Essex.
Thelma and Louise
Just like their cinematic namesakes, Thelma and Louise were inseparable. The two best friends were found wandering in a park together, skinny and scared, with no one to rely on but each other.
Terrier Louise and Saluki Thelma were soon taken to Battersea, where staff gained their trust and helped them build up their confidence before they finally found their happy ending.
Duke and Boris
During the first pandemic lockdown in 2020, a Battersea rescue dog was busy helping to hand-rear a tiny kitten named Boris, who had been rejected by his mother at just two days old. Beagle Duke was adopted from Battersea in 2016 after being found as a stray wandering the streets of Guildford. His owner, Laura, helped to hand raise Boris the kitten and thanks to both her and Duke's loving care, the tiny kitten grew into a big strong cat and found a loving new home of his own.
Despite Duke's unusual grumpy-looking face, Laura assured us he thoroughly enjoyed playing and providing snuggles for his tiny best friend.
Buddy and Lady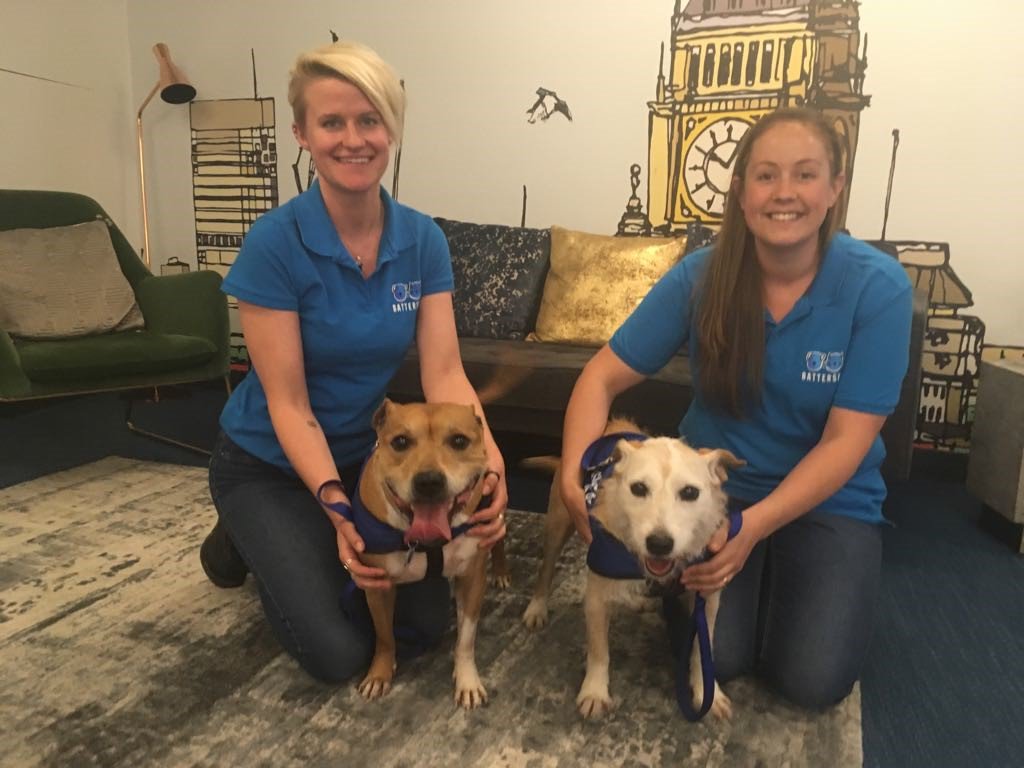 Buddy and Lady came to Battersea together after their owner found themselves unable to care for the pair anymore. This Staffie and Mongrel had a love so strong that they decided to put it in writing and even got 'married' on national TV show Loose Women as 'Prince Hairy and Meghan Barkle', in celebration of the 2018 Royal Wedding.
After their star turn, Buddy and Lady went on to find a honeymoon retirement home together where they could live out the rest of their days happily ever after.