Remembering them today, and every day, with a smile
02 JULY 2020
Our pets never fail to bring us joy. Whether they're dashing around in a moment of boundless energy or snuggled up in the strangest position, it's their cheeky personalities and their funny little quirks that make our companions so lovable and endearing.
On Pet Remembrance Day, we're remembering the dogs, cats and other animals who are no longer with us, but who will always make us smile. At Battersea, our Pet Tribute Funds are a special place to share happy memories and create a lasting legacy for your beloved pet. We asked some owners who have set up Pet Tribute Funds to share their stories with us and tell us all the things about their pets that still make them smile.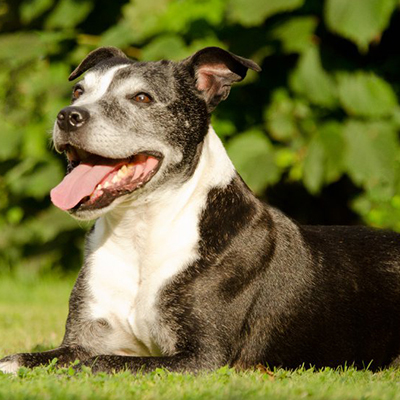 Harvey
Harvey was my sidekick and my best friend. He was with me through ups and downs, good days and bad, and he was loved by everyone. He even won over my best friend who is terrified of dogs!
He had a beautiful personality. He was loving, loyal and had such a kind soul. He loved playing fetch for hours, but also a snooze in bed on a Sunday morning. Harvey would be THAT dog with a giant stick 10 times his size. He loved the beach and running in and out of the waves, and he was such a water baby, but his favourite thing was strolling through the woods for hours (hunting out giant sticks, of course!)
I set up a Pet Tribute Fund because Harvey was the best ambassador for his breed and changed the opinion of so many people. He won rosettes and took part in photoshoots at local dog shows, and at one point he was even named the "Smiliest Pet in Britain"!
He loved taking part in events like Muddy Dog Challenge, raising money to help other animals just like him, and now he does this through his Pet Tribute Fund. I am so proud of him, and I always will be, and his fund and the support it gets are yet another reminder of just how special he was."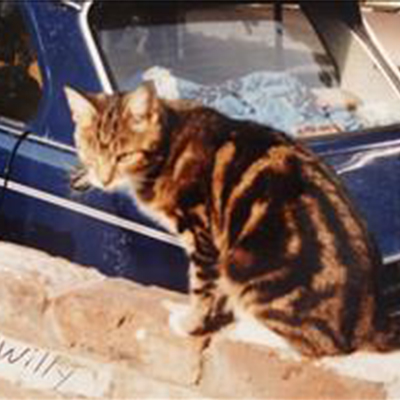 Willie
"Willie was a very special little chap and I still miss him to this day even though it was all those years ago.
It was the very first week of opening our bistro and a tiny six-week-old kitten appeared from nowhere in our restaurant dining room. He was extremely thin, covered in fleas, and in a very sorry state, but we instantly fell in love with him. We named him Willie and set to getting him healthy. He repaid us with endless love and loyalty and his cheeky, cheerful character.
Willie spent his days patrolling the local area, popping in to various establishments for snacks off the regulars whenever possible. Although his highest priority was getting a selfie with the tourists - he adored the attention!
As the years unfurled for the grand old boy he became poorly. In his last months we would take him outside in our arms on his regular rounds as he was very weak. Some of my favourite memories of him are taking him out for those walks. We tried to cover all his old stomping ground including a trip to his favourite drinking puddle and stop-offs to visit his admiring fans, who were always thrilled to see him. He loved it. His eyes were full of excitement and wonder and I think those walks really kept him going.
That summer we decided to sell up, and in the final week of our being open Willie climbed into my lap and looked at me as though to say "I've done my bit looking after you all, I think it's time for me to go now Dad." He left us right there in my arms, being cuddled the way he always liked.
I decided to start a Pet Tribute Fund because I didn't want Willie's life to just fade away. He gave us 16 years of love and loyalty and his memory still fills me with joy 16 years after he left us. Willie was so special that I wanted to try and immortalise his memory whilst at the same time raising money, so that other people can experience the joy that a rescued cat can give you."
Teddy
"Teddy was a very special little dog. He was full of fun, and so loving and he was very much loved by all who met and knew him. He came everywhere with me including to church most Sundays and he even starred on the cover of our local calendar to help raise money for church funds.
Teddy loved to play with his ball and would do it all day if he could. He was not a fan of the rain, and when the weather turned you couldn't get him past the front door. He did love to go for a paddle in the stream though! Teddy loved to go on holiday and I have such lovely memories of him running along the beach and playing ball in the surf.
I set up Teddy's Pet Tribute Fund as I think it's a lovely way to remember him and help Battersea. Teddy's fund and the support it's had means the world to me, as did Teddy."
Spike
"Spike meant so much to us and he had such an important role in our lives. He was well-loved and a very happy boy, and he had such a big smile at all times. We would always describe him as a 'child in a fur coat', because he was funny, always curious, slightly troublesome, and never clean!
Spike was definitely a home bird and loved to be with his family. He would often go around the house counting us up to make sure we were all present and correct. The local park was his favourite place to visit and every tree and blade of grass was inspected for hours.
One major quirk of his was that he absolutely adored cats. For years he tried to be best friends with every cat he met but to no avail, however a few months before he passed away he made friends with the neighbours' kitten so he got his wish after all.
I set up Spike's Pet Tribute Fund to create a place of comfort for those who loved him, and in turn a place to help other animals in need in his memory. Our whole family are huge animal lovers, so to know that Spike has helped to support the work of Battersea, even in a small way, makes me very proud. I would recommend anyone who has lost a pet set one up. It is an excellent way to establish a legacy for your beloved animal, find some comfort, and do some good in the world."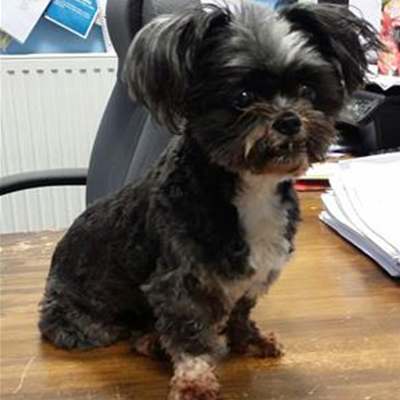 Angel
"Angel was like a little person. She was my princess, best friend, and close confidant.
She had lots of special quirks and mannerisms and was a very clever, expressive little girl who would tell us how she was feeling by barking or stamping her feet. For a small dog she took up a lot of space. I miss her most at bedtime, when she would always manage to take over the whole bed as if she were the size of a Great Dane. She certainly enjoyed some strange habits for a dog, but one thing was for sure: she would start every day with her own bit of sausage!
It's difficult to pick just one memory from the almost 20 years we were fortunate to have with our special lady. She was a very popular little dog who enjoyed being the centre of attention. One that I will never forget is the time Angel slipped her lead and ran outside into a busy main road. With some dogs this would have spelled disaster but when Angel heard me shout after her and realised what she'd done, she laid in the road and turned on her back for a belly rub, eliciting cheers and laughter from the stopped motorists all around her.
Angel's Pet Tribute Fund was set up by my sons as a Christmas present to me, and as a fitting memorial to my little princess. Angel took part in lots of charity fundraising events during her lifetime so this was a particularly poignant gesture. My hope is that by raising funds for Battersea in this way more people will experience the love and companionship we shared, and that other dogs and cats will have the chance to live their lives as loved as Angel."
---
If you'd like to do something extra special this Pet Remembrance Day, why not set up a Pet Tribute Fund? As well as offering you a space to share memories and photos of your pet, you'll also help raise vital funds for the dogs and cats at Battersea who are still waiting to bring joy and smiles to a loving new home.