The Duchess of Cornwall visits Battersea as the charity opens new facilities to help prepare for an anticipated increase in unwanted puppies
09 DECEMBER 2020
Battersea today welcomed its Royal Patron, Her Royal Highness The Duchess of Cornwall to the charity's Old Windsor centre in Berkshire. In what is the charity's 160th Anniversary year, Her Royal Highness heard how Battersea has continued to care for dogs and cats in need throughout lockdown, and thanks to generous support from its donors, has built world-class facilities to help it provide the best possible care for dogs and puppies that have been relinquished by their owners.
Battersea staff who have come onsite throughout the pandemic to look after the charity's homeless dogs and cats met The Duchess of Cornwall on her second visit to the Berkshire rescue centre since she was announced as Royal Patron in February 2017. They were joined in a special Battersea Guard of Honour by some of the charity's volunteers who have been temporarily fostering dogs and cats in their own homes throughout lockdown.
During the visit Her Royal Highness officially opened the new The Duchess of Cornwall kennels, a brand new facility that includes a dedicated maternity area and puppy paddock, as well as outdoor paddocks and chill-out rooms to help unwanted pets thrive in Battersea's care.
The new facilities will help Battersea provide the very best care to dogs that for whatever reason have to be given up by their owners. The charity has continued to offer help and advice to owners throughout the pandemic, taking in emergency cases during national lockdown, providing behaviour advice through a dedicated advice line manned by the charity's staff, and most recently expanding its online pet advice offering to include puppy training classes over Zoom.
The Duchess of Cornwall kennels will help young puppies like Ernie, a nine-week-old Pug whose owner's needed Battersea's help when their dog rejected her puppies at only few days old. Her Royal Highness met Ernie on her visit today and heard how he and his brother have since found loving homes.
Claire Horton, Chief Executive at Battersea said:
"We are always thrilled to welcome our wonderful Royal Patron The Duchess of Cornwall to our centres to see first-hand the vital work we are carrying out to help dogs and cats that need our help. Today's visit was also an occasion to officially open our brand-new kennel facilities that will offer some of our most vulnerable dogs the space, comfort, and level of care they desperately need.
Over recent weeks we have come to the rescue of a number of puppies whose owners have struggled to care for them, and in the coming months we anticipate a greater demand for our services from pet owners who have brought dogs and puppies during lockdown. Sometimes being a loving pet owner means making tough decisions, but at Battersea we are always here to help, as we have been for 160 years. Our focus is to provide these animals with the very best quality care whilst we seek new homes for them, and we are so incredibly grateful to Battersea's generous donors who enable us to continue doing this. Thanks to their support we are now able to open these new facilities for our animals in what has been an exceptional and challenging year for all charities and rescue centres."
ends
Notes to editors
The Duchess of Cornwall has been the Royal Patron of Battersea since February 2017. She previously visited the charity's Windsor centre in the same month.
The Duchess of Cornwall's relationship with Battersea stretches back to October 2010, when she visited the charity's iconic South London centre to open its state-of-the-art Cattery, in its 150th anniversary year.
The Duchess returned to Battersea in 2012, accompanied by her two dogs Beth and Bluebell, when she met the dogs in the charity's care, alongside Battersea Ambassador Paul O'Grady, and opened the charity's new Veterinary Hospital and Centre of Excellence in September 2016.
Battersea's Royal patronage began in 1865 with Queen Victoria. The Prince of Wales, the future Edward VII, became the first Royal guest when he visited the Home in 1879 and five years later his youngest brother The Duke of Albany was the first member of the Royal Family to rehome a Battersea dog, a Fox Terrier. Queen Elizabeth II became Royal Patron in 1956.
In addition to the Home's Royal Patronage, HRH Prince Michael of Kent is Battersea's President and is a proud owner of a Battersea Labrador, Shadow.
Battersea Old Windsor opened in 1979. The centre cares for around 100 dogs and 50 cats at any one time and in 2019 rehomed 1,159 animals. 632 dogs and 527 cats.
Since Battersea was founded 160 years ago, we've been committed to helping every dog and cat that needs us - championing their rights, loving their imperfections and expertly caring for them. Because rescue is our favourite breed.
We're reliant on the generosity of the public to continue to fund our vital work helping dogs and cats and the people who care for them. Now more than ever, we need funds to enable us to continue to be here for every dog and cat.
To donate to Battersea, visit https://donate.battersea.org.uk.

Further information on The Duchess of Cornwall kennels

The kennels were built thanks to the generous support of Battersea donors after Battersea launched an ambitious plan in 2017 to raise almost £3m to demolish and rebuild the centre's oldest kennel block.
The facilities, designed by Jonathan Clark Architects, are the first of their kind across the three Battersea sites and are focused on providing mothers and puppies with the necessary facilities to reduce stress and infection.
To help achieve this staff will be on hand to care for the animals around the clock. Sensory equipment and a variety of surfaces and noises will aid puppies' development and provide a relaxing and domestic environment for mothers to give birth in – something that is incredibly difficult to achieve in standard kennels.
The new facilities will take mothers and puppies from across all three of Battersea's centres and it is anticipated we will care for 50 mothers plus their litters each year.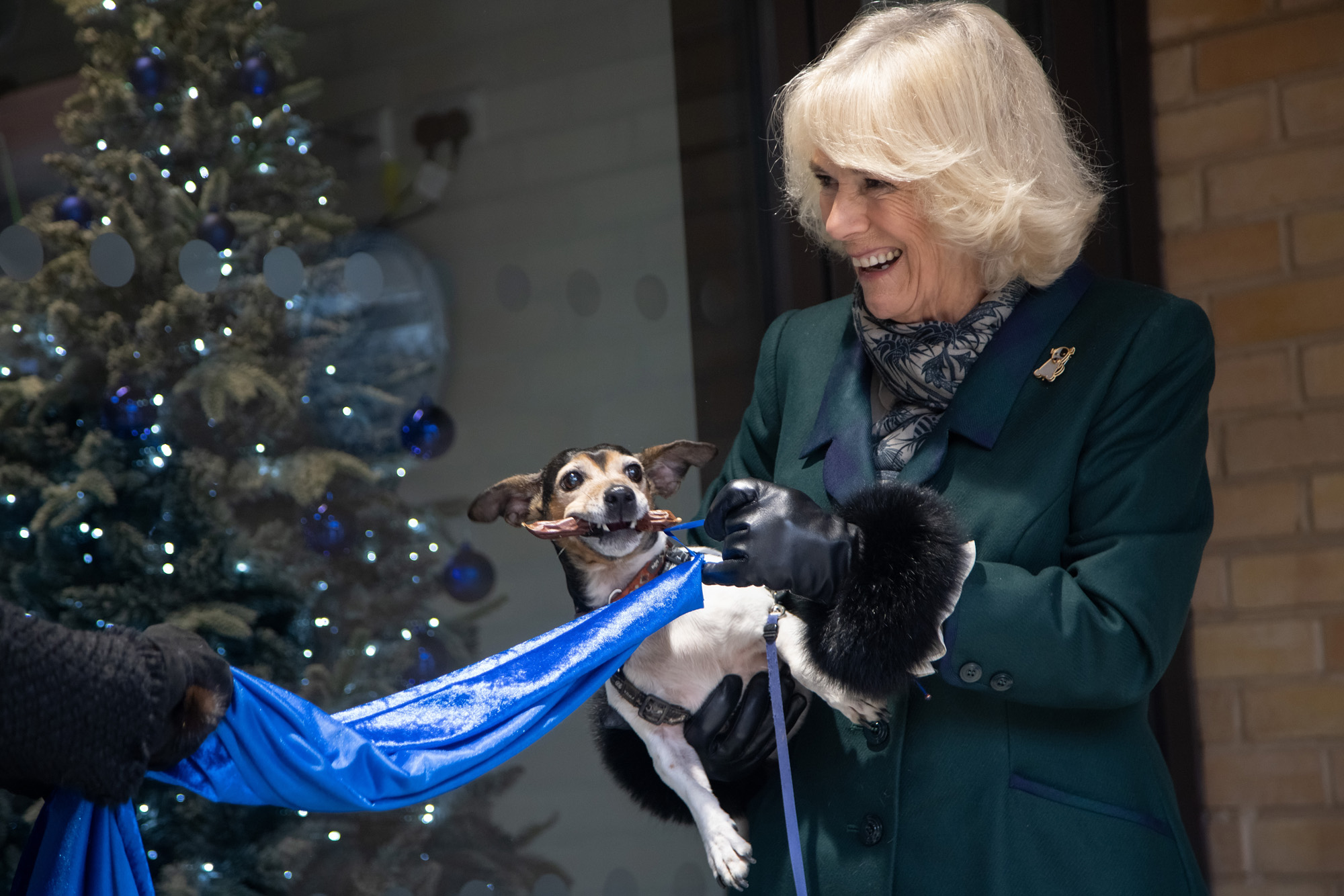 HRH The Duchess of Cornwall and her Battersea rescue dog Beth visit Battersea Old Windsor to open the animal charity's new kennels.
HRH The Duchess of Cornwall's Battersea rescue dog Beth helps to officially open the new kennels named in her honour on a visit to the charity's Old Windsor centre in Berkshire.
HRH The Duchess of Cornwall meets Ernie, an 11-week-old Pug puppy that came into Battersea when only a few days old. He has now found a home and is one of many puppies the charity expects to care for following the coronavirus pandemic.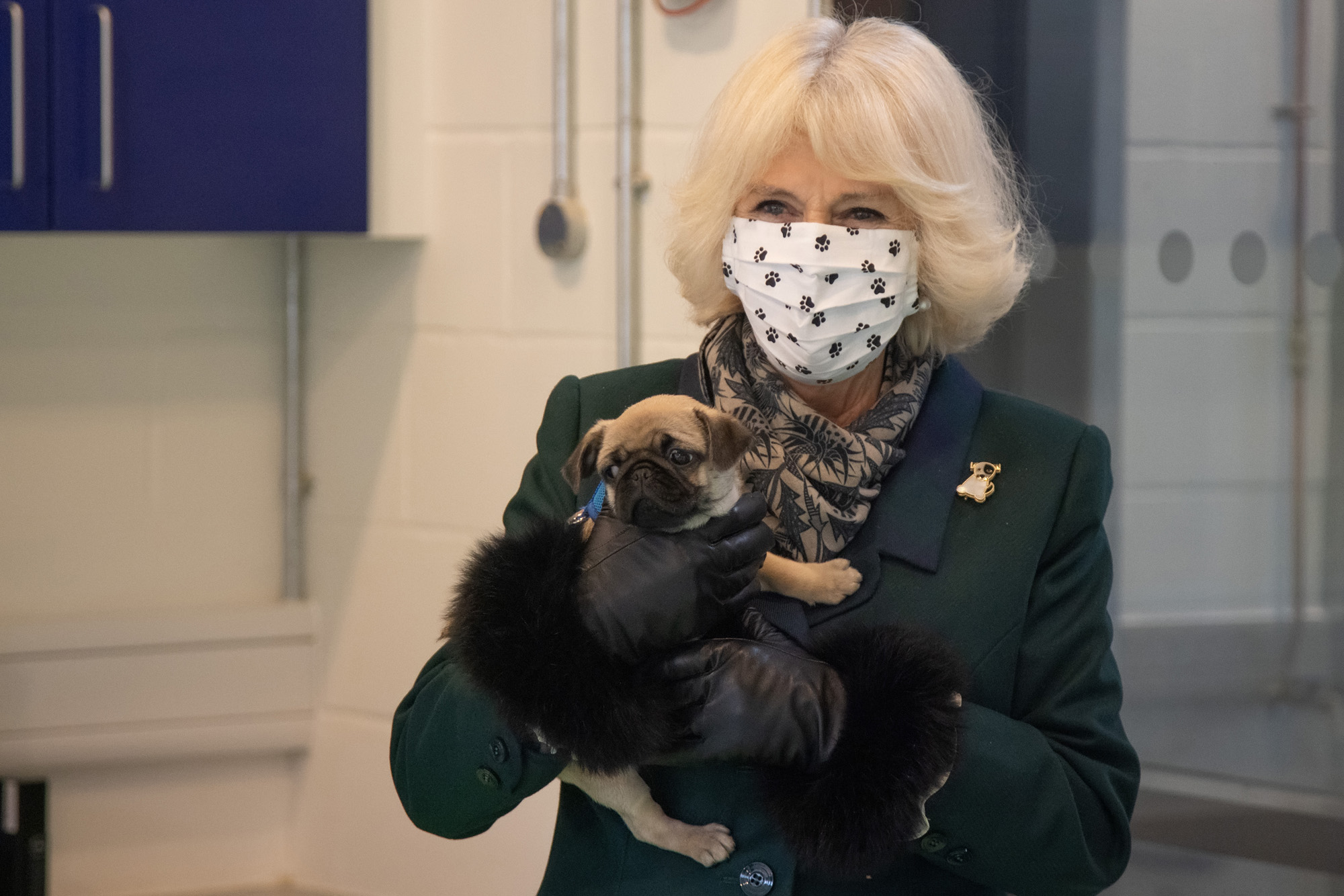 HRH The Duchess of Cornwall meets Ernie an 11-week old Pug puppy that came into Battersea when only a few days old.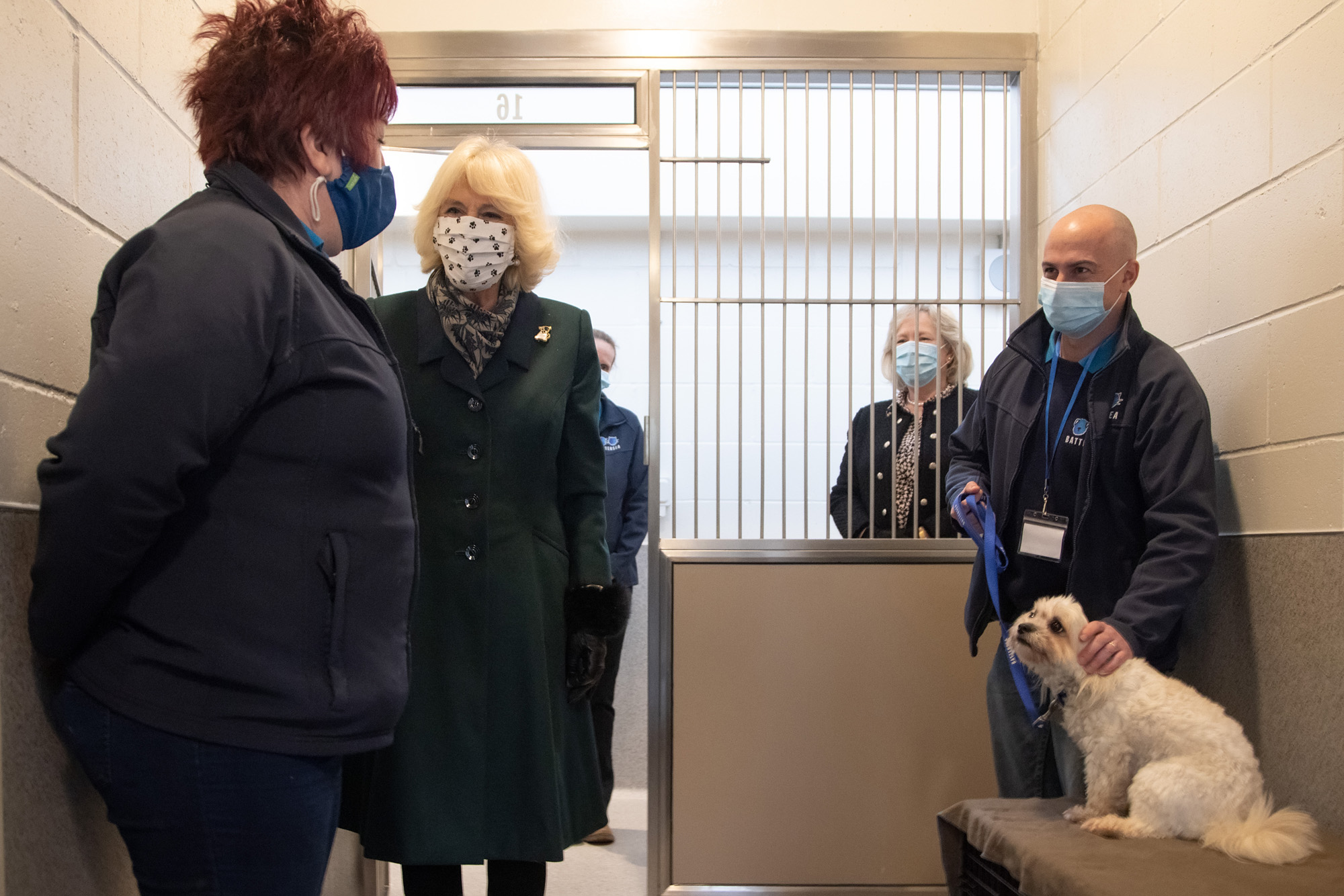 HRH The Duchess of Cornwall meets Olive, a 3-year-old Bichon Frise who was born onsite at Battersea Old Windsor after her pregnant mum came into the charity's care as a stray. Also pictured are Head of Canine Behaviour & Training Ali Taylor, and Canine Behaviourist Ross Henderson.