Animal Partnerships
Here at Battersea, our Animal Partnerships team works with many different dog and cat charities and rescues all over the country to provide the best outcome for our dogs and cats in need of homes.
We will accept dogs and cats into our care from other rescues and charities for a variety of reasons, it may be that the rescues are struggling to rehome a specific dog or cat, they might have little space available at their centre or a long waiting list of animals in need of new homes. We believe that through working together we can help more dogs and cats in need.
The Animal Partnerships team also works with dogs that they feel would be best suited to a working home, for example, with the police, search and rescue or prisons. This may be because they have exhibited a strong drive to sniff and smell, or they need more mental stimulation, which suits these outlets perfectly.
If you think that you or your organisation could be a suitable rehoming outlet for an animal then please call 0207 627 7886 or 0207 627 9264
Working dogs
Our Working Dogs Manager spent 14 years at The Metropolitan Police Dog Training School, training dogs and handlers for general patrol and search work, e.g. explosive and narcotic detection. He also trained explosive detection dogs in the private security industry.
The Working Dog's team role at Battersea is to find suitable dogs to go into a working environment. The working outlets that we find dogs for are police, prisons, private security companies, fire service urban search and rescue, other search and rescue organisations, therapy dogs (e.g. medical detection dogs), agility, flyball and other sporting organisations.
When we identify a suitable dog, this is what happens: -
Investigate the dog's pre-admission history, the same assessments for any dog arriving at Battersea are carried out by the care group.
Check to see if the dog has the required search drives by carrying out assessments at the three Battersea sites. If the time scales allow, we will complete more training sessions with the dog to develop their ability to search.
Contact the appropriate outlet to inform them of a potential working dog and arrange introductions.
Recent successes include three dogs going to work in prisons; two have recently completed a narcotics detection course and the third is still in training. A further two dogs will be trained as medical detection dogs and another two will be working with the British Transport Police and are currently in training to find explosives.
Breed rescue
If a dog arrives at the home showing challenging behaviours that are specific to a certain breed, the team gets in touch with a breed specific rescue centre and work with them to advertise the dog to their network to find a suitable foster carer or forever home. In some cases, these rescuers may take the dog into their own care as they will have a better chance of ensuring that the dog is rehomed to the right home.
It is not only dogs that keep the team busy; finding homes for cats that are under-socialised and would prefer to be living in the country, on a farm or in a stable, where they have the choice of interaction they want from humans, is also a key part of the Animal Partnership team's work.
Working cats
The Animal Partnerships Team also deals with cats that are unable to live in a domestic home, such as under-socialised, semi-feral cats with acute hunting skills. The team looks for suitable rural homes, including farms and stables, so that these types of cats can live out the rest of their lives being able to come and go as they please.
There are a few standard requirements that we ask of the new owners:
Have a secure area for the cat to live in whilst they are settling in, such as a barn or stable.
Feed the cat twice a day and provide litter to begin with.
Allow the cat to go outside (after they have settled) and roam freely.
Please note, these cats are not featured on our website. If you are interested in rehoming a working cat, please email animalpartners@battersea.org.uk or call our team on 0207 6277886.
Success stories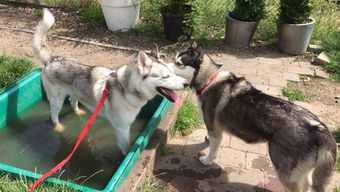 For more information contact our Animal Partnerships Team on 0207 627 7886 or 0207 627 9264. Alternatively please email animalpartners@battersea.org.uk.