Our animal care
Our determination to help every dog and cat that arrives at our gates means that we see animals in all states of mental and physical condition. Our dedicated team of Clinic and Kennel staff work tirelessly to give our animals everything they need during their time with us.
Health and vet care
MMany dogs and cats arrive at our gates in good health and need little more than a quick check-up, vaccination, worming and flea treatment. However, others arrive in poor condition or ill health and it is up to our Clinic team to care for them and nurse them back to health, ready for a fresh start in a new permanent home.
Kennel and Cattery enrichment programmes
As well as our Veterinary team, our Kennel and Cattery teams work tirelessly to improve the health and well-being of all the animals coming into Battersea. Extensive efforts go into reducing stress levels of the dogs and cats in our care so that their time with us, however long, is as stress-free as possible. We also have specialist animal behaviour experts to assess and help our most stressed animals and those with behavioural challenges.
Some of our animal enrichment and stress management techniques include:
Sitting in the kennels and catteries with our animals
Dog grooming facilities to help them settle and adjust to the new surroundings
Foster homes for our most poorly or stressed animals
Individual care plans for every animal
Inventive and fun games and puzzles
Dog days out to the seaside and parks
Time out in staff offices for stressed dogs
Training and games including dog agility to keep them alert
External behaviourists to work with staff trying new techniques and ideas
Work with specialist breed rescues and external organisations to train some of our most challenging dogs to become working and service dogs
A variety of toys each day to keep their minds active
A variety of scents in small pouches to bring some change to the kennel environment
Classical music played for a few hours each day – studies have shown this has a calming effect on dogs
Food presented to them in a variety of ways to keep them mentally stimulated and challenged.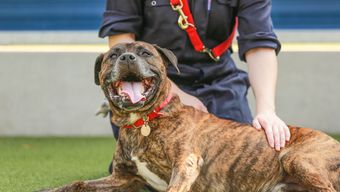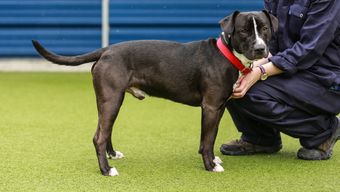 If you would like to support our kennel enrichment programme, please buy a gift for one of our animals.