Our animal care
Our determination to help every dog and cat that arrives at our gates means that we see animals in all states of mental and physical condition. Our dedicated team of Clinic and Kennel staff work tirelessly to give our animals everything they need during their time with us.
Health and vet care
Many dogs and cats arrive at our gates in good health and need little more than a quick check-up, vaccination, worming and flea treatment. However, others arrive in poor condition or ill health and it is up to our team of eight vets and 25 nurses to care for them and nurse them back to health, ready for a fresh start in a new permanent home.
We care for over 7,000 dogs and cats every year and all of them will be examined by a Veterinary Surgeon during their stay. We employ a clinic team of 39 staff across our three sites, including eight Veterinary Surgeons, 21 Veterinary Nurses and three Veterinary Care Assistants. Battersea is also an approved Nurse training practice and currently has seven Student Vet Nurses.
Winston's story
Nine-year-old British Bulldog Winston was given up to Battersea in July 2016. His owner had tried several other rescue centres who wouldn't take him in. Winston had hereditary breathing problems including wheezing and being unable to walk far without becoming breathless. Our Vets operated on his brachycephalic condition to open up his airways, a complex procedure that they are increasingly having to perform as demand for flat-faced breeds such as Bulldogs, French Bulldogs and Pugs increases.
A fully-recovered Winston met The Duchess of Cornwall when she visited the Home to officially open Battersea's new Veterinary Hospital and Centre of Excellence, and he now lives happily with his new owner in Kent.
Our new Vet Hospital
Our Vet Hospital will help us to care for more animals on a daily basis. Our new facilities include:
Three operating theatres allowing us to perform over 100 procedures a week
A dedicated laboratory and x-ray suite to speed up diagnosis and treatment
Spacious and sound proof recovery wards to keep dogs and cats separate and calm, helping speed up their recovery time
Enhanced laundry facilities with double our capacity; clean bedding is essential for keeping animals healthy
And a dedicated dental suit to free up space in the operating theatres.
These new facilities will allow us to repair more broken bones, treat more illnesses, perform more life-saving operations, and give the best possible aftercare allowing the dogs and cats to recover more quickly. Most importantly, this means our animals will find new homes sooner.
Kennel and Cattery enrichment programmes
As well as our Veterinary team, our Kennel and Cattery teams work tirelessly to improve the health and well-being of all the animals coming into Battersea. Extensive efforts go into reducing stress levels of the dogs and cats in our care so that their time with us, however long, is as stress-free as possible. We also have specialist animal behaviour experts to assess and help our most stressed animals and those with behavioural challenges.
Some of our animal enrichment and stress management techniques include:
Sitting in the kennels and catteries with our animals
Dog grooming facilities to help them settle and adjust to the new surroundings
Foster homes for our most poorly or stressed animals
Individual care plans for every animal
Inventive and fun games and puzzles
Dog days out to the seaside and parks
Time out in staff offices for stressed dogs
Training and games including dog agility to keep them alert
External behaviourists to work with staff trying new techniques and ideas
Work with specialist breed rescues and external organisations to train some of our most challenging dogs to become working and service dogs
A variety of toys each day to keep their minds active
A variety of scents in small pouches to bring some change to the kennel environment
Classical music played for a few hours each day – studies have shown this has a calming effect on dogs
Food presented to them in a variety of ways to keep them mentally stimulated and challenged.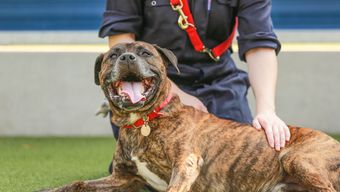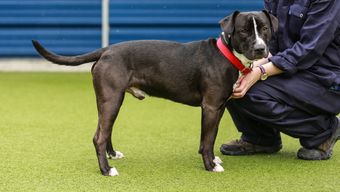 If you would like to support our kennel enrichment programme, please buy a gift for one of our animals.
Our new kennels
There is no time limit on how long we care for an animal at Battersea and, in September 2015, we opened our new Mary Tealby Kennels and paddocks for the new dogs experiencing their first few days with us.
The new, world-class facilities are designed to minimise stress and infection and introduce a calming environment. These redesigned kennels help keep noise and anxiety levels to a minimum, have underfloor heating, lots of light, air and space and an outside run for each dog.