Battersea welcomes Government's new crackdown on cruel and irresponsible puppy trade
07 FEBRUARY 2018
Battersea Dogs & Cats Home has today welcomed the Government's new proposals to crack down on cruel and irresponsible pet breeding practices.
Here at Battersea we have long campaigned for an end to the suffering we see - exhausted breeding bitches and their sick and under-socialised puppies sadly come through our doors all too often. The new measures the Government is introducing in Parliament today answer these calls, banning the sale of puppies and kittens under eight weeks old and introducing compulsory licensing for anyone producing three or more litters a year.
Claire Horton, Battersea's Chief Executive, said: "The measures the Government propose today have the potential to transform the way vulnerable animals are treated even before they are born. From tackling underage puppy sales, to the deliberate and irresponsible breeding of dogs with genetic disorders, to requiring the new owner to be present when a dog is sold.
"These proposals have the power to raise welfare standards across the puppy trade, which is welcome news for puppies, their mothers and their owners. We hope this important change to new legislation will help end the misery for thousands of breeding bitches that are either killed or cast out by unscrupulous breeders once they are past their sell-by date, as well as the sick and dying puppies sold to unwitting owners."
Cherry's Case
Battersea is currently caring for Cherry, a Pug cross rescued as a stray. When the two-year-old came through our doors, she was in a terrible condition, with sore and infected skin and eyes. Her mammary glands were swollen, and she was still producing milk – a sure sign that she had produced a litter very recently, although no puppies were with her.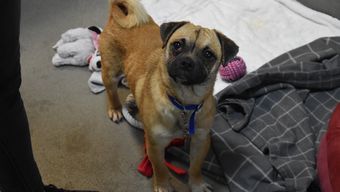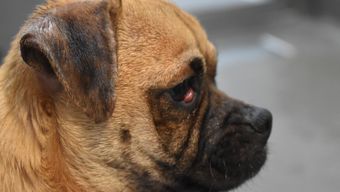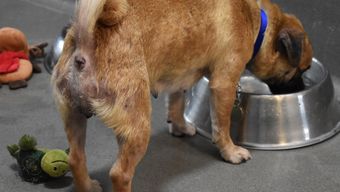 The Government has also announced a call for evidence on a ban on third party sales which would mean that anyone looking to adopt a dog would deal directly with the breeder.
Claire Horton continued: "At Battersea, we support the idea of a ban on third party sales, which would make breeders directly accountable directly to the public for the conditions in which puppies are bred and kept. However, there are some practical issues with the scope and enforcement of such a ban, and we welcome the Government taking evidence on how it should proceed. Battersea remains eager to assist.
"For too long, unscrupulous breeders and dealers have been passing on poorly bred underage and under-socialised and often sick puppies to an unsuspecting public. Today's announcement could signal the beginning of the end of this cruel practice and the beginning of the end to the misery suffered by dogs like Cherry."
End Backstreet Breeding
Battersea's End Backstreet Breeding campaign was launched in 2015 and called for a ban on the sale of puppies under eight weeks old, and for those producing two or more litters a year to require a license.