Dog microchipping gives you the best chance of being reunited with your dog if they go missing. Every year, rescue centres like us take in thousands of stray dogs and many are not reunited with their owners as there is no way of tracing them. At Battersea we microchip every animal we rehome.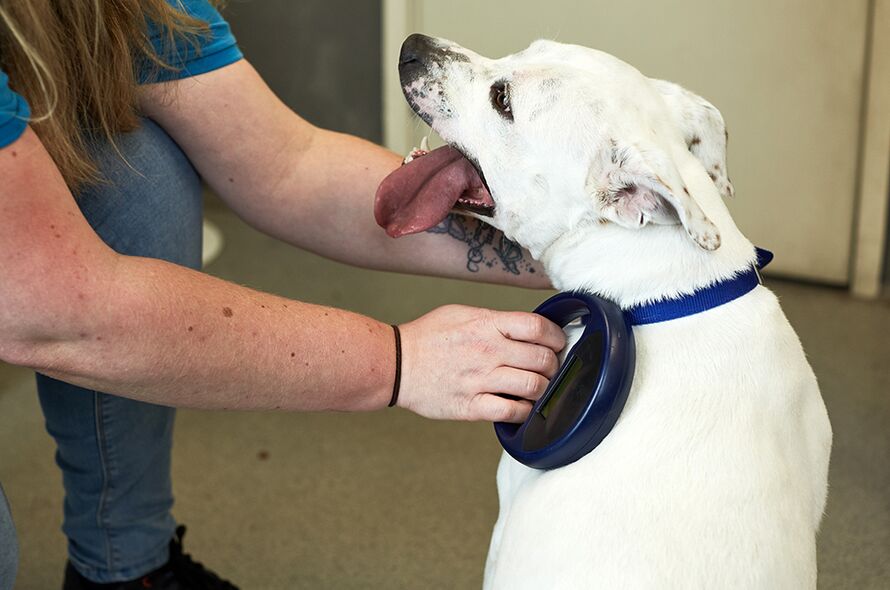 Why should i get my dog microchipped?
It's a legal requirement for all dogs in England, Wales and Scotland to be microchipped and wear a collar with an ID tag.
It's also the best way for your dog to be identified should they go missing. Battersea successfully reunites hundreds of lost pets with their owners each year, and it's microchipping that makes many of these reunions possible.

 
What is a dog microchip?
A dog microchip has a unique code which when scanned with a special reader, can be matched to the owner's details on a central database. It is inserted by a vet in a simple, quick and painless procedure.
Rescue centres, animal wardens and vets are all able to scan for a microchip to identify a dog and their owner.
Get your free pet care guide
Our free guide is packed with expert advice and answers to all your questions on toxic foods, body language, training, and brain games for your pet. We've even included recipes for making pet-safe homemade treats and toys.
Get your free guide now
How do i get my dog microchipped?
To help encourage those dog owners who haven't yet got their dogs microchipped, we offer free dog microchipping at our London centre. This should be arranged in advance to ensure appropriate staff are available. To book an appointment at our London centre, please call 0800 001 4444.
How do i update my dog's microchip details?
It's very important to keep your dog's chip details up to date with the correct contact details so you can be contacted should your pet ever go missing. Updating your details will cost a small fee and you can do this online, by telephone or post with the database that your pet is registered to. If you've mislaid your dog's microchip number ask your vet to scan your dog. All Battersea dogs are microchipped with Petlog who can be contacted on 01296 336 579.
Find out what to do if you have lost your dog.
Want more advice?
From new tricks to grooming tips, get expert pet advice straight to your inbox by signing up to The Battersea Way email.
Sign up today
Was this article helpful?