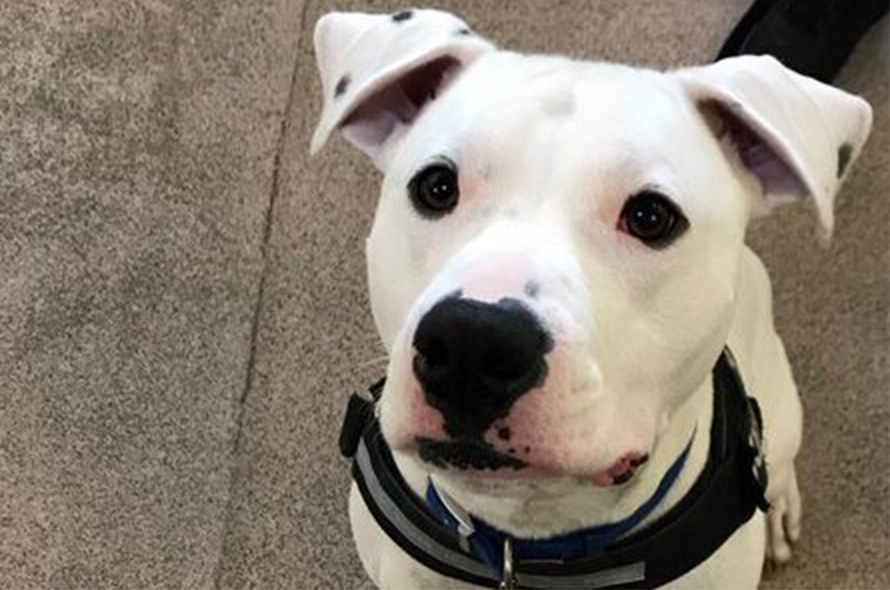 This is Ice's story
On average, nine dogs arrive at Battersea every day. From the moment they do, we provide them with the treatment they need to get them back to their best. Which is exactly what happened with Ice.
On arrival at Battersea's London centre, our staff soon realised that Ice was going to need specialist support as he was completely deaf.
The three-year-old American Bulldog was brought into Battersea when his excitable behaviour became too much for his previous owner to handle. He was prone to getting very bouncy and finding it hard to focus. In other words, Ice was just the type of loveable challenge we take pride in caring for.
Battersea's expert staff believed Ice's hearing problems played a part in his behaviour as it was tricky getting his attention without being able to use vocal cues.
At Battersea, we aim never to turn away a dog or cat in need of our help, and so the dedicated team put together a personalised plan, working with Ice every day for months to help him keep all that excitable energy under control.
We adjusted our training technique to use only hand signals, which were quickly picked up by clever Ice who can now respond to a total of 10 commands in sign language. These can include tapping on the floor to create vibrations or gently tapping his side to get his attention.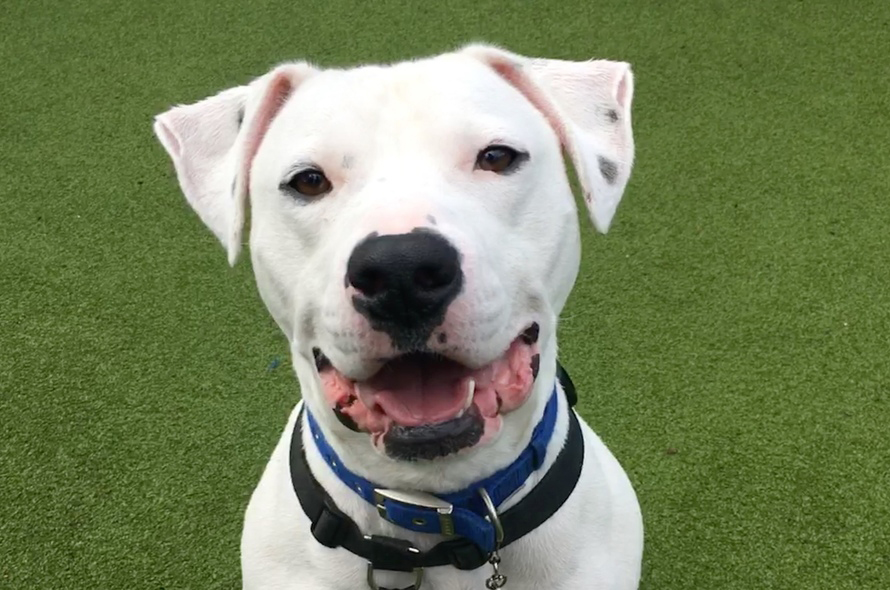 Ice even understands when he's been a good boy, and his carers give him a well-deserved 'thumbs up' action.
'Ice's deafness has been a challenge, but he's been a real joy to train because he really wants to learn. He's so smart and picks up new things very quickly.' Karl Clarke, Rehoming & Welfare Assistant.
Ice made amazing progress since arriving at our London centre, with a little bit of care and attention from Battersea staff, he'd transformed from excitable goof into a perfectly behaved dog… most of the time. But like any of the dogs in our care, he needed new owners to keep his training going and to show him the love he so deserves.
When Lily paid a visit to our London centre, she spotted Ice and decided he was the perfect match for her. And so, after we shared all the information Lily needed to look after him, he went off to his new home.
'I chose Ezra (formally Ice) because he's a lovely boy who needs someone with the time and energy to continue training him in sign language – he's already learnt three more signs since I took him home! I also felt we were kindred spirits because I am hard of hearing too. He's settled in brilliantly, made some new friends (human and canine) and is learning very quickly. His favourite thing now is getting lots of cuddles.' Lily, Ice's new owner.
You can help dogs like Ice
By sponsoring a Battersea dog kennel you can give dogs in need a safe and comfortable environment to thrive in before they find their forever homes.
Sign up today
Categories :