Our charity relies upon donations to raise the vital funds needed to keep our centres running. We need the continued support of the public to ensure we can continue to be here for every dog and cat. If you are able, we would encourage you to make a donation online.
This method of fundraising is one of the most effective ways to recruit new supporters and ensures we can continue to care for the thousands of dogs and cats who arrive at our gates each year.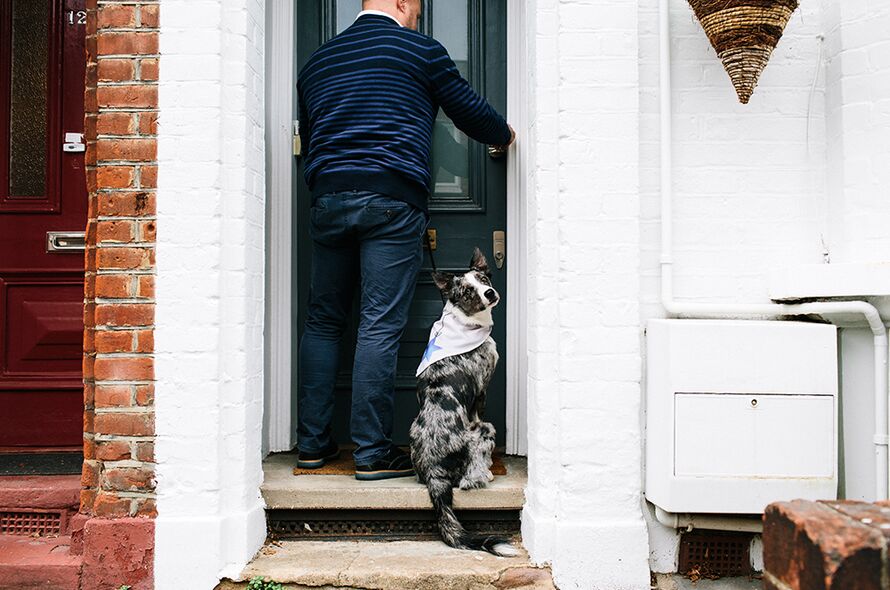 Why do we use this as a method of fundraising?
This method of fundraising is a very efficient and cost-effective way of generating income and attracting new supporters to Battersea.
Individual donations are hugely important to us and vital for us to continue our work. Direct debit is also a cost-effective way to donate as it allows us to keep our administrative costs to a minimum and the length of the commitment helps us to plan ahead and budget effectively.
How do I know that the person calling at the door is legitimate? Should they have ID?
All of our fundraisers wear Battersea branded clothing and carry official identification cards, which are required by law. They will not under any circumstances take a cash or cheque donation from you on the door, they will use iPads to sign people up electronically. All conversations should be carried out at the doorstep, legitimate fundraisers should never ask to enter your home.
You can also check the locations list above. However, if a postcode is not included do not assume that a fundraiser is bogus, as occasionally fundraisers can cross over into the next postcode by mistake.
If you have any concerns about the legitimacy of a fundraiser please call us on 020 7627 7883 (Monday to Friday, between 10am and 4pm), who will be able to verify the legitimacy of a fundraiser. You can also send your questions to fundraising@battersea.org.uk.
What do the fundraisers ask for?
The fundraisers ask members of the public to pledge regular donations to Battersea by direct debit and are not authorised to accept any other means of payments as a donation (cash, cheques etc.).
Our fundraisers are trained to be sensitive to the current issue of pet theft. We understand how concerned people are about this and so our fundraisers will do everything to make you feel comfortable.
Do you have permission to fundraise in my area?
For England and Wales, Battersea has a National Exemption Order for house-to-house collection, see the list of National Exemption Order holders. This means we have been through a government process that looked at our approach to fundraising, considered a range of factors in assessing our eligibility, and based on that review approved us for house-to-house collection without needing to seek approvals from local authorities. For more information on the National Exemption Order process, see the National Exemption Order scheme.
For Scotland and Northern Ireland, Battersea will have sought permission from the relevant local authority before fundraising in your area.
Is this type of fundraising regulated?
The Fundraising Regulator regulates fundraising activities used by charities in the UK and enforces a Code of Fundraising Practice, which aims to make certain that peoples' experience of this type of fundraising is positive.
Battersea closely monitors its door-to-door fundraising campaigns to ensure that their representatives adhere to the regulations and Codes of Practice set out by the Fundraising Regulator.
More information can be found on the Fundraising Regulator website.
COVID-19
How safe is it to be undertaking this fundraising?
Battersea aims to ensure that everyone who comes into contact with our charity has a safe, positive experience. This extends to all of our fundraising activities, both within and outside our centres.
When door-to-door fundraising, our fundraisers will step back 2 metres after knocking, then first check whether there is anyone within the home that is in an 'at risk' group or self-isolating and end the interaction respectfully if so.
We have also introduced a number of safety measures which we are continuing to encourage as Government restrictions are lifted, these include:
Visors, face masks, hand sanitisers, and antibacterial wipes for all our fundraisers
Visual reminders about social distancing on our fundraiser tabards
Large ID badges to aid visibility from a distance
Sending a welcome pack by email or through the post rather than handing over items in person
Using contactless devices for donations
Using tools to ensure 2 metre social distancing
Any other questions?
If you have any other questions or queries about our door-to-door fundraising, please do not hesitate to contact us by:
Telephone: 0207 627 7883 (Monday to Friday, between 10am and 4pm)
Post: Supporter Services, Battersea Dogs & Cats Home, 4 Battersea Park Road, London, SW8 4AA.
Please remember to include your name and address. Please also include a contact telephone number so that we can call you if we need any more information to answer your question.
We realise that sometimes we might get it wrong and we truly value all feedback about our work. We believe that complaints are an opportunity to learn and improve and it is important that you tell us so we can deal with any situation as quickly as possible.
If you do have a complaint about our fundraising activities, please get in touch using the contact details above.
The Fundraising Regulator is the independent regulator of charitable fundraising. If we are unable to resolve your complaint to your satisfaction and it is about our fundraising activities, you can ask the Fundraising Regulator to consider it. All the contact information you need to make a complaint can be found on the Fundraising Regulator website.
Please note that the Fundraising Regulator can only consider complaints received within three months of the original incident you wish to complain about, or within two months of our final response to you.