A law requiring all dogs to be microchipped with up-to-date details came into force in Great Britain in 2016. Having called for compulsory microchipping for many years, Battersea welcomed this legislation. A few years on, we wanted to know how many dogs this law has helped.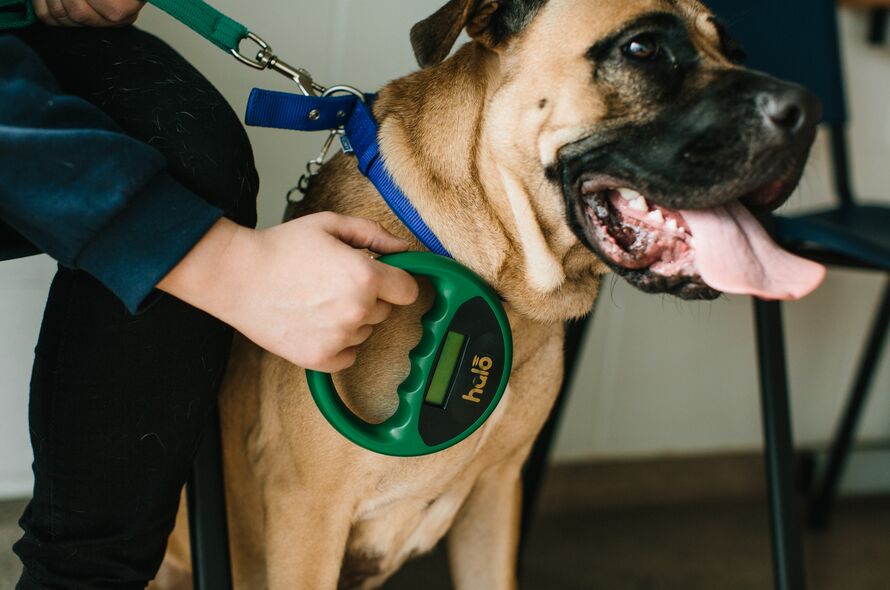 WHAT IS MICROCHIPPING?
Microchipping is the process where a small chip the size of a grain of rice is implanted between the shoulder blades of a dog. This procedure is done by a trained professional, usually vets.
Every microchip has a unique code, which is readable with a microchip scanner. This code corresponds with a database entry, which in turn gives information on the dog's keeper, such as their name and address.
BATTERSEA INVESTIGATES
Battersea has conducted surveys of the Local Authorities which enforce this legislation every year since compulsory microchipping for dogs was introduced (with the exception of 2020 due to COVID-19).
We compiled our first survey in 2016 to assess how many owners were already compliant with microchipping when the law came into force. The results revealed that only 20% of stray dogs seized by those Local Authorities could easily be reunited with their owners.
Battersea's second survey in 2017 showed there was encouraging improvement, but still only 31% of stray dogs were microchipped with accurate details recorded on the microchipping database.
In 2018, our report showed that only around one-third (29%) of stray dogs were microchipped with up-to-date details.
In Battersea's fourth microschipping report, some negative trends appeared to be emerging. Just 25% of stray dogs were accurately microchipped and 31% did not have a microchip implanted. Of those that did have a chip implanted, 60% had an inaccurate record on the database.
Our 2021 report showed almost the same microchipping rates as 2019 (26%) and an increase in microchips from outside the UK, which now make up 10% of microchips for stray dogs in London.
THE GOOD NEWS - THERE ARE FEWER STRAYS
Our surveys show a continuing reduction in the number of stray dogs handled by Local Authorities. Looking at the 39 Local Authorities in Great Britain who participated in all five surveys (2016-2021), the number of stray dogs has reduced from 895 in the month of February 2016 to 308 in the month of May 2021, a reduction of 66% in five years. This is unquestionably a positive trend and seems at least in part to be a result of compulsory microchipping and the ability to reunite animals with their owners using the details they contain.
BUT NOT EVERY DOG OR OWNER IS GETTING THE BENEFITS
Our research shows that by 2021 the proportion of all stray dogs that were accurately microchipped, which means they were chipped, and had a corresponding up-to-date record registered on the database, was only 26%.
The reasons why this is so low are complicated:
The proportion of stray dogs that have a microchip continues to increase; in the 39 Local Authorities that participated in all five of our surveys, 77% of stray dogs were implanted with a microchip in 2021 compared with 69% in 2019.
However, the proportion of dogs with microchips which have an up-to-date or accurate record on an official microchip database went down. By 2021 it was lower than before microchipping was made compulsory – in 2021 just 26% of stray dogs that were implanted with a microchip had an accurate record.
Failing to keep a dog's microchip record up-to-date means that, overall, fewer dogs and owners are seeing the benefit of microchipping.
ENFORCING THE RULES
In April 2019, Battersea asked 369 Local Authorities in Great Britain with responsibility for dog control about how they enforced compulsory microchipping. This revealed:
Local Authorities in Great Britain only issued 21-day enforcement notices in an estimated 13% of potential cases.
21-day notices to produce evidence of an up-to-date microchip are very effective, resulting in a compliance rate of 70%.
20% of cases of non-compliance with a 21-day notice resulted in a prosecution. The final figure is likely to be a little higher as a number of cases were under review for possible prosecution at the time of our request for information.
85% of prosecutions result in a conviction.
Fines ranged from £20 to £500, with the average being £234.
MICROCHIPPING UNDER REVIEW
Compulsory microchipping for dogs comes under review in 2021 (delayed from 2020). The Government will assess how effective the legislation has been and if there are any improvements they should make. Battersea's reports will help to inform this review.
Battersea recommends the following:
Keepers and owners must ensure their dog is accurately microchipped and should be informed about the importance of making sure their dog's microchip record is up-to-date.
Give Local Authorities the power to issue a Fixed Penalty Notice, which requires an offender to pay a fixed sum within a set number of days, for non-compliance with a 21-day notice.
The Government should require improvements of microchip database companies, making them take a more active role in information checking and updating their records.
Make it the legal duty of a puppy's first keeper (often its breeder) to update the database with the new keeper's details when the keeper changes (for example, when someone buys a puppy off a breeder).
WHAT DOES THIS MEAN FOR CATS?
Battersea and other animal welfare charities recommend that all cat owners microchip their cat. Cats are not covered by the current law on compulsory microchipping, but the Government has recently consulted on whether cat microchipping should become a legal requirement in England. Battersea has responded to this consultation, agreeing that it should be compulsory for owned cats, with lessons from our research into microchipping in dogs.
If the Government takes forward the option of regulation, cat owners in England would be legally required to get their cat microchipped instead of it being strongly advised. If owners did not microchip their cat or keep their details up to date, they could be liable to face enforcement action.
Read our advice pieces to find out more about microchipping your cat and how to check a cat's microchip details.