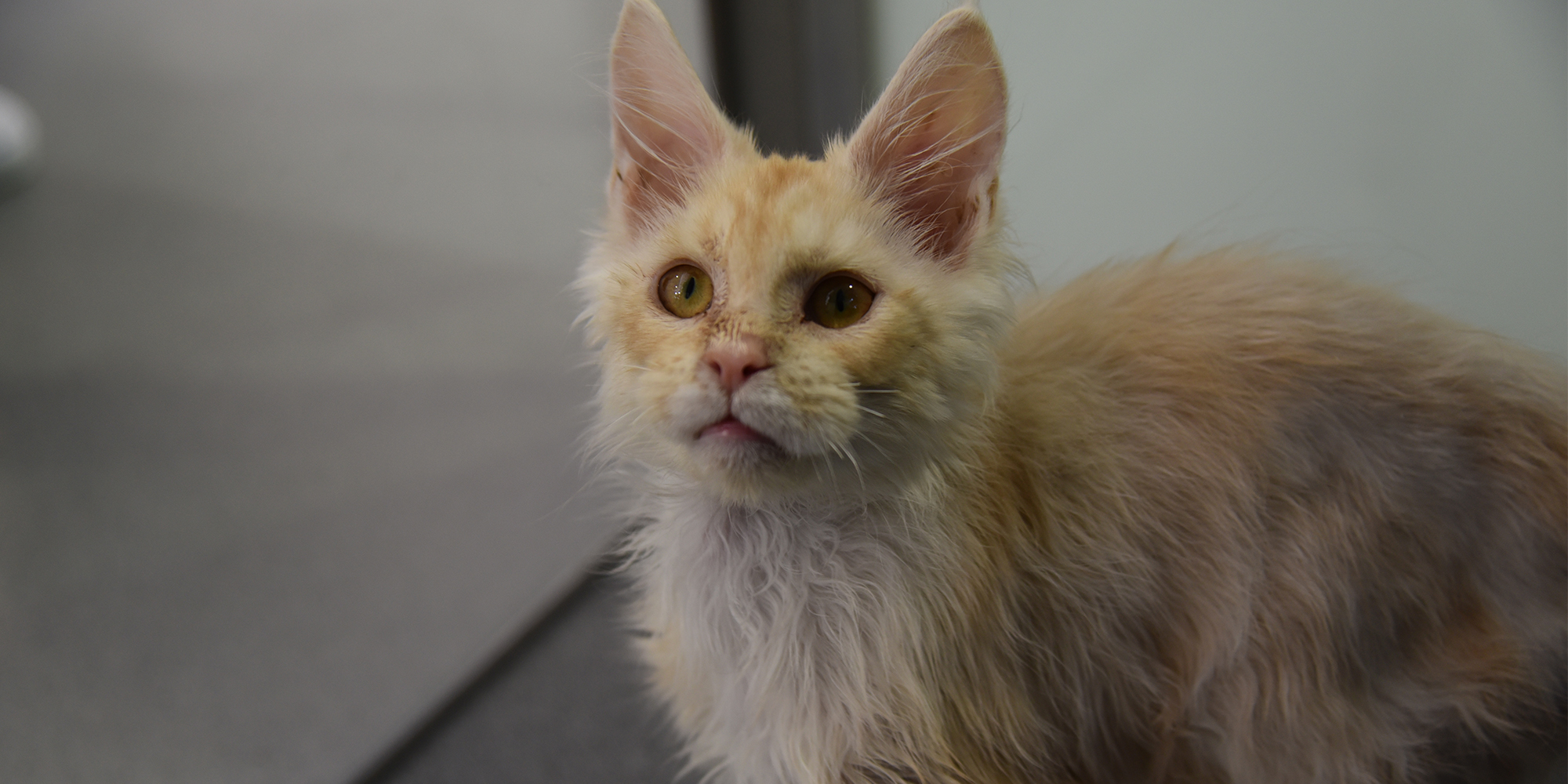 This is Cricket's story
In March 2019, a tiny kitten was found by a member of the public after being abandoned in a cat carrier with a message that read 'Help me please'. After being rushed to Battersea's London centre, our expert veterinary team feared that the kitten was already beyond help. Unresponsive, extremely underweight, with a thin coat and bald tail, the five-month-old cat had two deformed front legs and weighed less than half of what a healthy cat of his age should.
Fortunately, there was a glimmer of hope when our vets realised that he was still breathing and quickly got to work to save the life of this brave little cat, who we named Cricket.
For weeks, our teams across the centre were dedicated to helping Cricket turn his life around. Not only did Battersea's vets give him ongoing intensive care, but the cattery team worked closely with him, too. They sat with him in his pen each day to keep him company and show him some much-needed love and attention.
Battersea Veterinary Surgeon, Claire Turner said: 'Cricket was extremely underweight and under-developed when he arrived at Battersea. It's possible that being severely malnourished during his short life had prevented his body from growing correctly, which could have contributed to his bowed legs. It was heart-breaking to see him when he arrived, he was so weak and helpless.'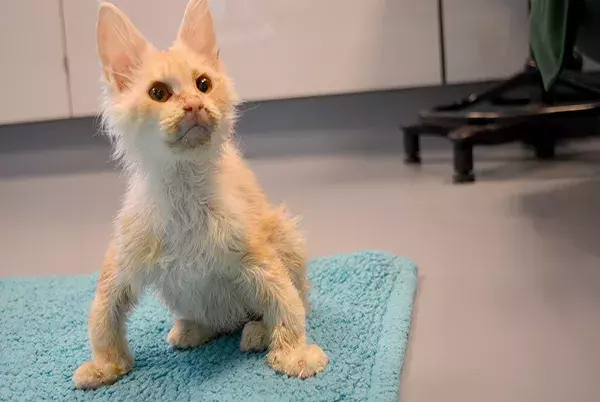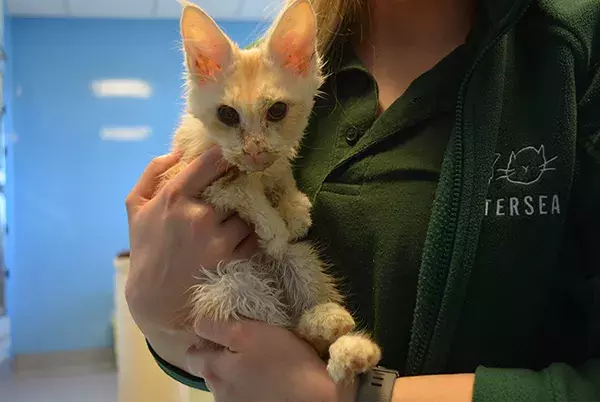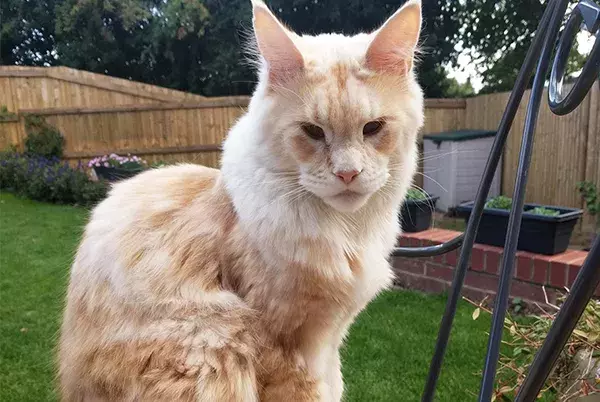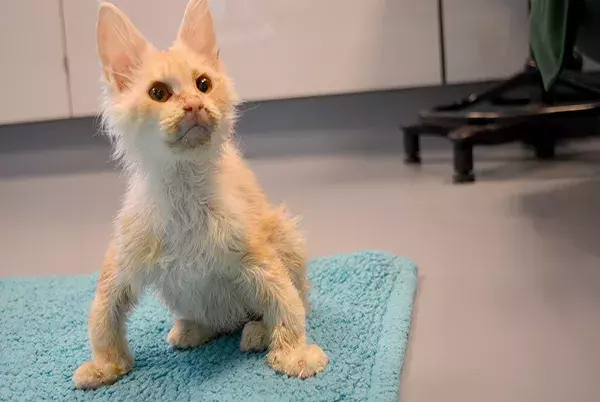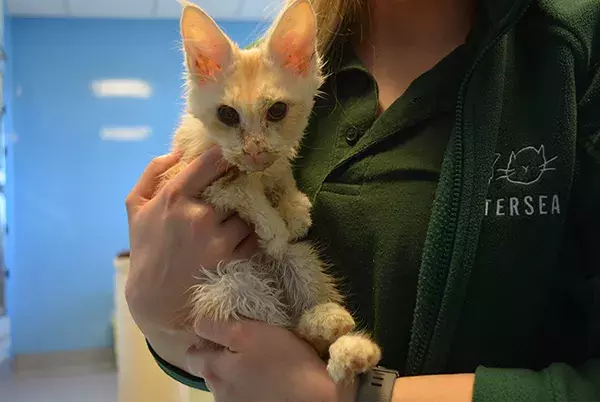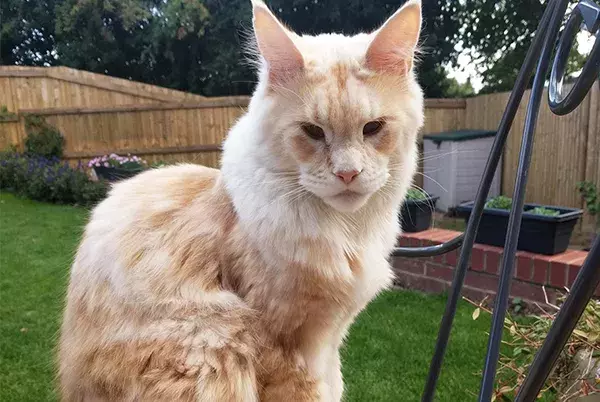 Slowly but surely, Cricket gained weight and his fur gradually started to grow back, however we still needed to give him specialist medical treatment to help with his bowed front legs. Despite having a tough start in life, Cricket always displayed a loving and playful nature, and even while undergoing treatment loved nothing more than cuddling up on any available lap.
Thankfully, after a long period of being looked after and receiving specialist medical treatments at Battersea, it was a happy ending for Cricket. His winning personality meant he found a new home in no time. Now named Hunter, he's all grown up and is enjoying life with his new family.
YOU CAN HELP CATS LIKE CRICKET
By sponsoring a Battersea cat cabin you can give cats in need a safe and comfortable environment to thrive in before they find their forever homes.
Sign up today
Categories :