Owning a dog is an incredibly rewarding and fun experience, but the cost of owning and keeping a dog healthy and happy is a long-term financial commitment. Take a look at our guide on the one-off, monthly and annual costs associated with getting a new dog.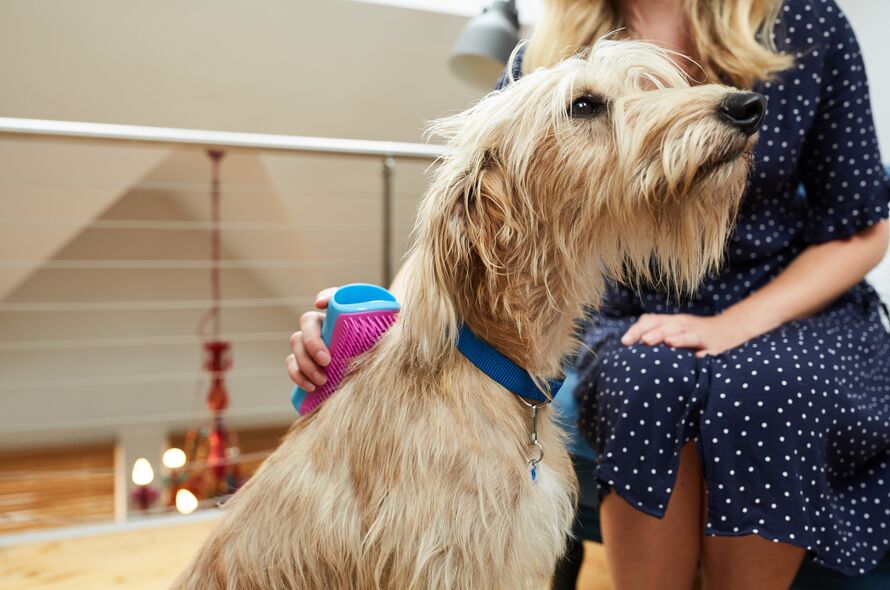 Dogs typically live for around 13 years, so before getting a dog it is important to consider the costs associated with taking care of them for that length of time. It typically costs around £2,000 per year to take care of a dog.
The table below is a guide to the basic costs of dog ownership. Costs differ dramatically depending on a dog's size, breed, and age, so the expenses outlined are an approximate guide based on costings at the time of writing.
Item

One off expense

Monthly cost

Annual cost

Microchip

£15

Toys and puzzle feeders

£50 - £70

Crate

Small: £35

Medium: £50

Large: £60

X-Large: £75


Puppy pads

£10 - £15 per pack

Grooming fees

£20 - £50

£240 - £600

Dog basket/bed

Small: £20

Medium: £30

Large: £35

X-Large: £75


Food & water bowls

£15 - £20

Lead, harness, collar & tag

Lead: £10 - £20

Harness: £20 - £40

Collar: £5 - £10

Tag: £6 - £10


Pack of poo bags

£2

£24

Treats

£10 - £30

£120 - £360

Food

£10 - £50

£120 - £600

Insurance

£20 - £60

£240 - £720

Routine healthcare (fleas, worming, vaccinations), annual vet check

Initial puppy vaccinations: £70

£26

£312

Pet sitting / day care**

£20 - £40 per day

£390
* Assumed an average of £24 per 12kg bag of food based on top 10 leading dog food brands in the UK
** Assumed an average of 14 days of pet sitting a year at an average of £35 a day
Essential items for a new dog
Before you bring your new dog home, you will need to buy a few essential items for them. These include food and water bowls, bedding, toys and a lead, harness, collar and tag. These will also need replacing from time to time.
Food
Dogs need their own food to ensure that they get all of the nutrients that they need to stay healthy and happy. Costs will vary significantly by the size of your dog, the brand of food and your dog's lifestyle (e.g. how active they are).
Typically, dogs should eat at least two meals a day, with the amount of food in each meal depending on their size. To best understand how much food to feed your dog, check the guidelines on the packaging of the food you have bought them. For specialist advise, consult your vet.
Treats are also invaluable, both as a training tool and as a way of creating a bond between you and your dog but ensure that they are given in moderation. Similarly to their regular food, amounts will vary depending on your dog's size.
Get your free pet care guide
Our free guide is packed with expert advice and answers to all your questions on toxic foods, body language, training, and brain games for your pet. We've even included recipes for making pet-safe homemade treats and toys.
Get your free guide now
Routine health costs
Annual vaccinations will protect your dog from a number of common, but serious, diseases that they could encounter. To keep your dog free of parasites, you will also need to treat them for fleas and worms regularly, following the advice of your vet.
Your dog will also need an annual health check. These are extremely important to make sure that your vet has the chance to spot any potential health problems for your pet and make sure that any signs of concern are dealt with quickly.
Grooming tools
Grooming is essential to prevent your dog's coat from matting. Just like humans, grooming also helps to get rid of any dead skin and hair, dirt and dandruff. Some basic tools like a brush, nail clippers and shampoo will help your dog feel fresh and healthy.
For grooming advice, consult your vet or a professional groomer.
Microchipping and neutering
Microchipping your dog is a legal requirement for all dogs in England, Wales and Scotland to be microchipped and wear a collar with an ID tag. Microchipping your pet also gives you the best chance of being reunited with them if they go missing.
If you rehome from Battersea, the initial cost of microchipping will be covered. However, there is sometimes a charge if you need to amend your registration details in the future. At Battersea, all dogs are neutered or spayed before rehoming, but this is something to bear in mind if you get your dog elsewhere. The cost of neutering differs for the breed, size and age of your dog, but generally ranges from £200 - £350. You should speak to your vet regarding costs.
Insurance
Pets can have unexpected accidents and illnesses just like us. Many people will choose to insure their dog rather than be faced with large and unexpected costs. We recommend looking out for policies that cover your dog for the lifetime of any illness rather than a fixed period of time.
Costs for insurance vary dramatically depending on your location and the dog's age, breed and size. For example, it is typically cheaper to insure younger dogs with no health problems or breed-specific health risks. Older dogs and breeds with high risk of health complications, such as flat-faced breeds like bulldogs, generally cost more to insure. It is important to note that insurance costs change all the time and can significantly rise during a dog's lifetime.
Pet sitting/ daycare
If you go away or can't look after your dog during work hours, it's important to make sure your they will be looked after. In many cases, it may be possible to ask a friend or neighbour to help, but for long term day care or holidays, you may require a professional pet sitter or day care.
As a general rule, if you regularly need to leave your dog alone for more than four hours at a time, they should have a dog walker to break up the day, or be left at a dog daycare.
Every dog will cope differently with being left alone. For a new dog who has recently been introduced to the house or for dogs with separation anxiety, more constant care like a dog day care is a particularly good idea. Battersea also runs a range of interactive online training classes which include tips on how to prevent separation anxiety.
Cost of living support schemes
Here at Battersea we're all too aware of how worrying the increasing cost of living is for pet owners. If you're struggling to afford care for your dog or cat, you're not alone.
We've put together a list of places and schemes that may be able to help if you need some extra support.
Subsidised veterinary care
Celia Hammond - 020 8691 2100 (Lewisham) or 020 7474 8811 (Canning Town)
Homeless pets - vet care, fostering, support
Dogs Trust Hope Project (aid with veterinary costs) - 020 7833 7611
Pet food banks
For further advice on the costs associated with pet ownership, visit our Cost of Living Support Hub.
Want more advice?
From new tricks to grooming tips, get expert pet advice straight to your inbox by signing up to The Battersea Way email.
Sign up today
Was this article helpful?