During a time of uncertainty for so many people, no one should have to worry where their pet's next meal is coming from. That's why we've been working with food banks and charities to put food into bowls and give owners peace of mind.
At Battersea, we're proud to be working with Mars Petcare to deliver food to community groups and food banks close to our three centres and Battersea Communities, offering support to owners in those areas and beyond.
By working together in our local communities, we can make sure no pet goes hungry and continue to be here for anyone who needs our help.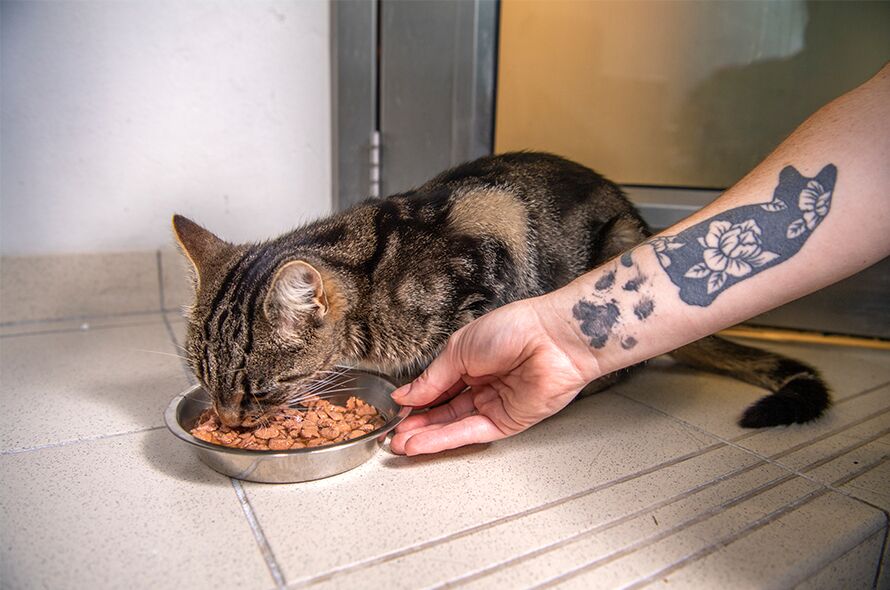 WORK WITH FARESHARE
We're also working alongside national animal charities to help owners feed their pets during the cost of living crisis, with the generous support of FareShare and donors, including Pets at Home, Petplan and Mars Petcare.
Battersea, Dogs Trust, RSPCA and Cats Protection are working with UK Pet Food to secure pet food, which is then distributed throughout the UK by FareShare - thanks to Petplan covering the cost of distributing food to pets in need.
So far, the initiative has secured 55,800 kg of pet food, or more than 395,000 meals. This food will help owners and pets most impacted by the cost-of-living crisis.
Peter Laurie, CEO of Battersea: "As leading animal welfare charities, we want to do everything within our power to support the thousands of pets being affected by the cost-of-living crisis. No one should have to worry about where their pet's next meal is coming from, and we want to reassure any struggling owners that help is available. Battersea is proud to be working alongside our rescue colleagues, pet food partners and Fareshare to ensure pets across the country can continue to be well-fed and much-loved."
Owen Johns, Senior Corporate Affairs Manager, Mars Pet Nutrition UK: "Mars Petcare is on a mission to end pet homelessness, and to achieve this it's vital that we stop happy pets from good homes going into shelters simply because pet parents are facing financial hardship. So, we're proud to be working with Battersea Dogs & Cats Home to support pet parents in feeding their beloved cats and dogs with nutritious food."
Lindsay Boswell, CEO of FareShare: "The cost-of-living crisis is having a disproportionate impact on people already struggling to make ends meet. We're incredibly proud to be working with these animal welfare charities and their pet food partners so that people won't have to choose between feeding themselves or their pets during what is a challenging time for many."
Nicole Paley, Deputy CEO of UK Pet Food: "Our members are responsible for feeding 90% of the nation's pets, so we have been delighted that many have signed up to the scheme and donated pet food for those in need."