Battersea's world-class hydrotherapy centre is open for any dog or cat (not just those at our centres) who could benefit from the soothing properties of the water and a personalised rehabilitation programme.
Much like for humans, hydrotherapy is an effective way to rehabilitate and manage orthopaedic conditions in pets. It can also alleviate many of the common pains and ailments they experience.
We're delighted that, thanks to the support of our generous sponsors, we have our own state-of-the-art hydrotherapy pool at of our Battersea London centre, with a 6x3m pool, including resistance jets and an underwater treadmill.
To enquire about hydrotherapy sessions for your pet, please contact us at hydrotherapy@battersea.org.uk.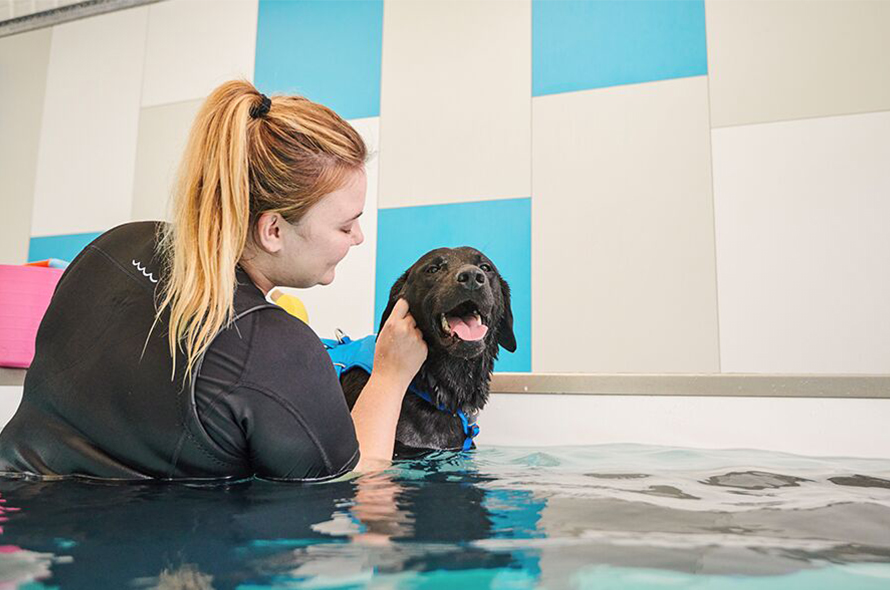 How Hydrotherapy can benefit your pet
Hydrotherapy can be beneficial for all pets, of all ages, so we're thrilled that we will also be offering hydrotherapy to members of the public and their pets.
Whether you've been referred specifically by your vet, or are looking to help your pet safely lose a few pounds or even just want to familiarise your puppy with the water, Battersea has a range of hydrotherapy courses on offer, all led by our team of expert hydrotherapists.
Prior to booking your session, we require your pet to be signed off by your vet using our consent form to make sure they are suitable for hydrotherapy, and it is safe for them to take part. This also includes providing your pet's full medical history. After an initial assessment, we will work with you and your vet to tailor your pets treatment to benefit them.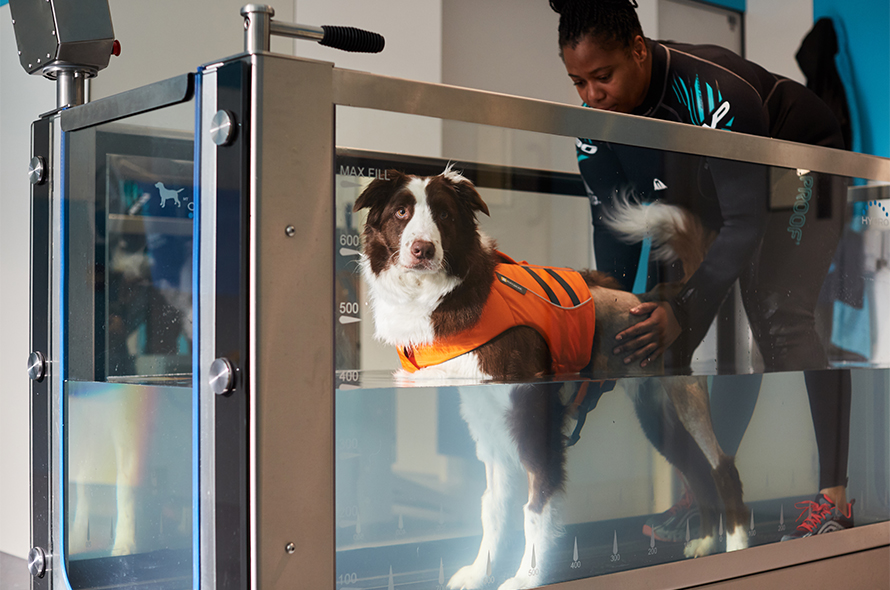 Medical Hydrotherapy sessions
Hydrotherapy can be extremely beneficial both pre-and-post-operatively for your pet, and to help manage a variety of conditions. We require your pet to be signed off by your vet using our consent form to make sure they are suitable for hydrotherapy, and it is safe for them to take part. After an initial assessment we will work with you and your vet to tailor your pet's treatment to benefit them.

Fun water sessions for your pet
Puppy swimming lesson
Puppies become more confident by experiencing new things in a positive way when they are young. During a 30-minute introductory swimming session our staff will ensure that your puppy has an enjoyable experience with water, as well as using positive training techniques to build up their confidence in being handled by new people. Our fully qualified staff will support them in their introduction to swimming and movement in water. These sessions are a fun, productive way to tire them out and get their exercise in as well as teaching your puppy to swim, without applying too much pressure to their growing joints.

Fun dog swims – including water treadmill
These sessions are designed for dogs without a medical need for hydrotherapy. With the emphasis on fun, these sessions can take place in either the hydrotherapy pool or in the water treadmill and are a way to vary your dog's exercise and provide them with different enrichment styles to keep their brains and bodies active. They can also be used to build up fitness where required (for example if you regularly take part in activities such as agility) or as maintenance sessions to help keep your dog in tip top condition.

Pet weight management
Hydrotherapy is ideal for pets following weight loss and management programmes. The low impact of exercise in the water helps to reduce the strain on their joints whilst still burning calories. These sessions will be tailored to help achieve and maintain targeted weight loss for your pet.

Prices
Medical initial consultation: £60
This session will last between 30 minutes to 1 hour and allows our hydrotherapists to perform their initial assessment thoroughly. They will assess your pet's gait as well as positively introduce your pet to them and the centre.
Hydrotherapy sessions: £45
All subsequent sessions last for 30 minutes and the average pet will be in the water for 20 minutes.

Our facilities
Take a 360-degree tour of our state-of-the-art hydrotherapy centre and discover more about all the different features and their benefits, for our animals and yours.
Hydrotherapy FAQs
Yes, we require all owners to at least have confirmation from their vet that Hydrotherapy is safe and suitable for their pet. This is so that our team is made aware of any relevant conditions, and to give our hydrotherapists the specifics of any injuries or ailments that they are looking to support the treatment of. As part of the booking process we will provide you with a form for your vet to complete which will gather all the necessary information.
It is worth checking your insurance policy details and speaking to your insurer as it will depend on your policy. This kind of treatment may come under complementary therapies. Where you are covered by your policy. We will still require you to pay for your session in advance.
No, we want to ensure that every pet has an enjoyable experience and recognise that not all pets enjoy sharing their space. Please be aware that you may see other accompanied animals as you enter or exit the facilities as our Battersea London site is an operational animal welfare centre.
No, our trained staff are on hand to be in the water to support your pet. Equally, while some customers may want to get in the water, this is unfortunately not something that we can accommodate due to health and safety.
We recommend that all dogs are vaccinated for their hydrotherapy sessions.
Please notify us as soon as possible if you are unable to attend your appointment. We do reserve the right to still charge for missed appointments if we do not receive at least 48 hours notice.
Let us know, and we will try to accommodate you and carry out as much of your session as possible. If there is another appointment directly after yours we may have to shorten your session.
Please use the entrance on 4 Battersea Park Road for Tealby's Café. This is the entrance on the left of the bridge as you are looking at our centre from the road. Once through the black gates, follow the signs to reception where someone will be able to direct you to the Hydrotherapy centre.
Yes, we have a dedicated parking space onsite which is free to use for the duration of your dog's hydrotherapy session when requested in advance at time of booking.