We aim never to turn away a dog or cat in need of our help. Subject to space, we will open our gates to all dogs and cats in need of care and shelter and we will do all we can to either reunite them with their owners or to rehome them into loving new homes.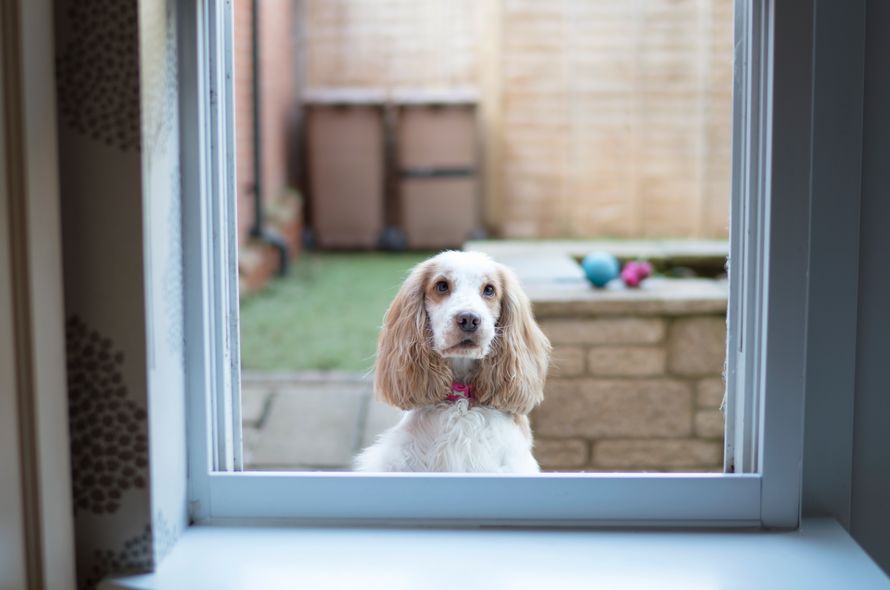 We are very proud of how we look after every animal that comes to Battersea. Our team of highly skilled staff and volunteers is key in providing the best possible care for every dog and cat to prepare them for their next home. Our state-of-the-art facilities, including our Veterinary Hospital and Centre of Excellence, allow us to care for thousands of animals every year, and our dedicated team of foster carers place stressed animals in homes when they cannot cope with kennel or cattery life.
Our main aim is to ensure that all Battersea dogs and cats receive the care and attention they need to move on to their new homes. We do everything that we can to give them the best possible chance at a new life beyond Battersea. For more information, please read our Animal Charter.
NON-SELECTIVE
Our non-selective intake policy is increasingly rare in the animal rescue sector and it's at the heart of everything we stand for.
There is a downside to this non-selective approach however, in that we deal with a wide range of animals arriving here and as a result, we regularly receive dogs and cats with serious medical conditions and/or behavioural problems. This means our dedicated team treats each animal on a case-by-case basis and does everything we possibly can to give them the best chance of a happy future.
We will never put an animal to sleep unless they are found to have untreatable medical problems, or to have behavioural issues so severe that we believe we will be unable to safely rehome them, or if the animal is a banned breed and we are legally obliged to.
If a banned type of dog is identified, we are required to comply with the law and so we take advice from the police. There are four banned dog types in Great Britain under the Dangerous Dogs Act – the Pit Bull Terrier, the Japanese Tosa, the Dogo Argentino and the Fila Brasileiro.
We care deeply for all the animals we look after, and such decisions are never taken lightly or in isolation. Battersea offers hope and the chance of a happy life to many dogs and cats who, if not for Battersea, would have nowhere else to go.
REHOMING ASSESSMENTS
DOGS
Every dog that comes to Battersea is checked over by a member of our highly experienced Veterinary team as well as trained behavioural assessors.
Our expert team will take the time to assess each dog to understand their individual needs, motivations and behaviours towards other animals and people, they will also identify any areas where undesirable behaviours can be resolved with time, training and care.
After a thorough assessment process and any required medical treatment, if the dog is suitable for rehoming we will look for a match for them. In some cases, this can take a matter of days but for others it may be many months. There is no time limit on how long we care for an animal. We have lots of great homes waiting and most dogs remain with us for an average of 35 days.
Find out more about giving up your dog for adoption.
CATS
Every cat that comes to Battersea is treated with compassion and dignity and is assessed by a member of our highly experienced Veterinary team as well as trained behavioural assessors.
From the first day, we make every effort to help each cat feel safe and secure in their new environment. We give them the opportunity to hide and never force interactions. We allow the cat to initiate interaction when they are ready and ensure this happens in a calm and stable environment. Once they are ready, we assess them to determine what home would be best suited for their needs.
On average, cats can take two weeks to feel settled when they arrive with us, but there is no time limit on how long an animal can stay with us - our main concern is the cat's welfare.
If, after assessment, the cat is suitable for rehoming, we will care for it for as long as it takes to find the right owner. In some cases, this can take a matter of days but for others it may be many months before they finally find a suitable new home. We have lots of great homes waiting and most cats remain with us for an average of 27 days.
Find out more about giving up your cat for adoption.
THE PROCESS
When a person contacts us to arrange to rehome their pet to Battersea, it can be a very emotional experience. Please make a note of the following points prior to contacting us:
Please be completely open and honest about your situation – the more we know, the easier it is for us to understand the best way to proceed. Please remember that we are not here to judge or criticise you, we are here to help you and your pet.
If you call and are diverted to an answer machine, please leave only one message. We appreciate that calls are urgent but please be assured that every call we receive is logged and will be responded to, usually within 48 hours.
If you are not the sole registered owner of the dog or cat, we will need to speak to anyone else who may have a claim to the animal.
Once an appointment has been booked for you to bring your pet in, you will receive a confirmation email which will include all the necessary information on what to do next.
If you cannot attend the appointment to bring your pet in, please ask a family member, friend, or neighbour to assist. If you will not be present at the appointment, we will require a signed letter of authority from the registered owner(s).
If you wish to cancel your appointment, we ask that you contact us as soon as possible to allow us time to be able to offer the kennel/cattery space to another animal in need.
INTAKE POLICY FAQ
Normally 10–15 minutes on the phone and a further 30–40 minutes once you have arrived with your pet.
We ask that you do not come to Battersea without an appointment. All bookings are by appointment only as this ensures we can help as many people as possible. We only have a limited space so it is best to call first to see if we can accommodate your pet.
We are unable to collect cats or dogs from their homes so you will need to make arrangements to bring them in for your appointment. If you're unable to travel to our centres with your pet, we may be able to arrange a collection in extreme circumstances, or advise of pet taxi services who may be able to.
Once we have all the information we need on your pet, we can offer appointments based on the length of our current waiting list. This can change depending on our rates of rehoming and therefore how many dogs or cats we have onsite at the time.
Please bring with you:
Your pet
A form of ID with your name and address
A letter of authority if the animal's chipped owner is not accompanying the dog or cat, stating you are aware the animal is coming to us to be rehomed and you consent to our policies
Any paperwork you have for your animal
It would help us to settle your pet in if you could bring some belongings such as bedding or toys. We would also recommend covering your cat carrier with a blanket to reduce stress.
The service is free of charge, but Battersea would appreciate a suggested donation of £50 to help towards the care of your pet.
This is not possible. It would be very distressing for your pet because they would think you were coming to collect them. And of course, this would be very upsetting for you.
This is not possible. However, we will give you a reference number during your intake appointment and you are welcome to email for any updates.
If animals come to us as a pair or trio and it's safe to do so they will be initially kept together and assessed as a group. Where possible, we try to rehome dogs together, but due to stress and other factors beyond our control, this is not always the case and we can at no point guarantee any pairs will be rehomed together.
No, we would never knowingly rehome an animal into the same area as its previous owner.
This is not a service we provide as we are not a boarding kennel or cattery.
Yes, we aim to never turn an animal away. However, we ask that pet owners have realistic expectations about the type of problems we can work with.
If you are concerned about the welfare of a cat, or a cat is feral, we strongly recommend that you contact the RSPCA, Celia Hammond, Cats Protection or The Mayhew as they all have facilities to help the cat themselves. Unfortunately, we are not able to collect cats and we also do not accept cats in traps.
You can report a stray to us by calling 0207 6679245. Any stray cat brought into Battersea will need to stay for seven days before we can take steps towards their rehoming. If they are owned, this gives the owners a chance to claim their cat. We will also check our list of reported missing cats to ensure strays do not match up to any of the reported cats' descriptions. For full advice on what to do if you have found a cat you believe to be a stray, please look at our lost and found cat advice.
If you find a stray dog, the law requires that you take the dog to the council or return the dog to its owner. We recommend taking the dog to a vet to be scanned for a microchip – any vet will do this free of charge – as that may well enable the owner to be traced quickly and easily. Here's more information on what to do if you find a stray dog.
It's important to understand that you have now legally signed over your pet to Battersea, therefore relinquishing all rights of ownership to them. As a general rule, we do not allow dogs and cats to be reclaimed once they have been brought into us for rehoming. We would, therefore, encourage you to ensure that you have carefully thought through your decision before making an appointment
We ask all pet owners to fill out our online intake form, but if anyone is in danger as a result of your dog's behaviour, please call us on 0800 001 4444 between 8am and 5pm. If anyone is in immediate danger, please contact the Police.
Unfortunately we are unable to take in pets for temporary boarding. See below for a list of dog-friendly homeless shelters.
See below for details of emergency pet care schemes like the Freedom Project and The Links Group.
Visit our pet advice pages, for a range of advice on managing problem behaviours. If your dog was rehomed from Battersea, please call or email your nearest centre.
Local Authorities have a "Duty of Care" to rehouse some animals while the owner is in hospital, and it is free for the first two weeks. See details below for the Cinnamon Trust who provide support to those that are elderly or terminally ill and need a dog walker or fosterer. You could also contact Trusted Housesitters or Borrow My Doggy if you anticipate needing help in the future, or longer term.
DOG AND CAT BEHAVIOUR INFORMATION
HELPFUL CONTACTS
EMERGENCY PET CARE
Pet Refuge Scheme: The Mayhew: 0208 9628000
Hospital Patients: Local Authorities have a "Duty of Care" to rehouse some animals while the owner is in hospital and it is free for the first two weeks - some authorities charge after this period
Freedom Project: Dogs Trust for women fleeing domestic violence: 0800 298 9199
Hope Project: Dogs Trust for assistance with veterinary fees for people facing housing crisis: 020 7833 7611
The Links Group (for those fleeing domestic abuse): links@live.co.uk
DOG-FRIENDLY HOMELESS SHELTERS
Day Centres
Homeless Action in Barnet London N12: 0208 4468400
Spectrum Centre London NW1: 0207 6274937
Spires London SW16: 0208 6960943
The 999 Club London SE8: 0208 6945797
The Manna London: 0207 2265369
Hostels
Salvation Army: Booth House Resettlement Centre London E1: 0207 3929490
Broadway London W12 Referrals Hammersmith Fulham Housing: 0208 7355800
Thames Reach Bondway London SW8: 0207 8409820
Shelter Housing
Waltham Forest HA Ltd London E4: 0208 5246987