Giving up your cat for adoption
At Battersea, we know that life doesn't always go to plan. Sometimes, being a loving pet owner means making tough decisions, and deciding to rehome your cat can be one of the toughest.
No matter your circumstances, we will listen without judgement, and do what we can to make things as simple as possible. We've been finding loving new homes for beloved pets for 160 years and our staff are dedicated to caring for every cat. We will help them to settle in, get to know their individual quirks, and do everything we can to find the best possible home for them.
Bringing your cat to Battersea
If you need our help in rehoming your cat, please contact your closest centre below.
Our priority is the welfare of our animals, and we are taking active steps to monitor the cats currently in our care to ensure they are kept cool and comfortable in the hot temperatures we are currently experiencing.
Rehome your cat with Battersea – what happens next?
Battersea's core mission is never to turn away a dog or cat in need of our help, and we are committed to ensuring that every dog and cat receives the highest standards of care.
When you get in touch with us we will take your details and find out everything you want to tell us about your cat as well as any important information.
Take a look at this video for more information on what to expect when you rehome your cat with Battersea:
While we take the time to consider each case and situation individually, at times we may not be able to take your cat in straight away, but we will always discuss all options with you and do what we can to support you with your decision.
Please note, appointments are available Monday to Friday during standard working hours and also at weekends at our London centre. In an emergency we may be able to accept cats outside of these times, but please be aware that veterinary and behavioural staff may not be immediately available at our centres due to the time of day.
Read our intake policy and FAQs
Our core mission is never to turn away a dog or cat in need of our help. However, for the wellbeing of your pet we may need to make difficult decisions. It is important that you fully understand our policies including those around no reclaim of ownership or your pet being put to sleep.
Read our intake policy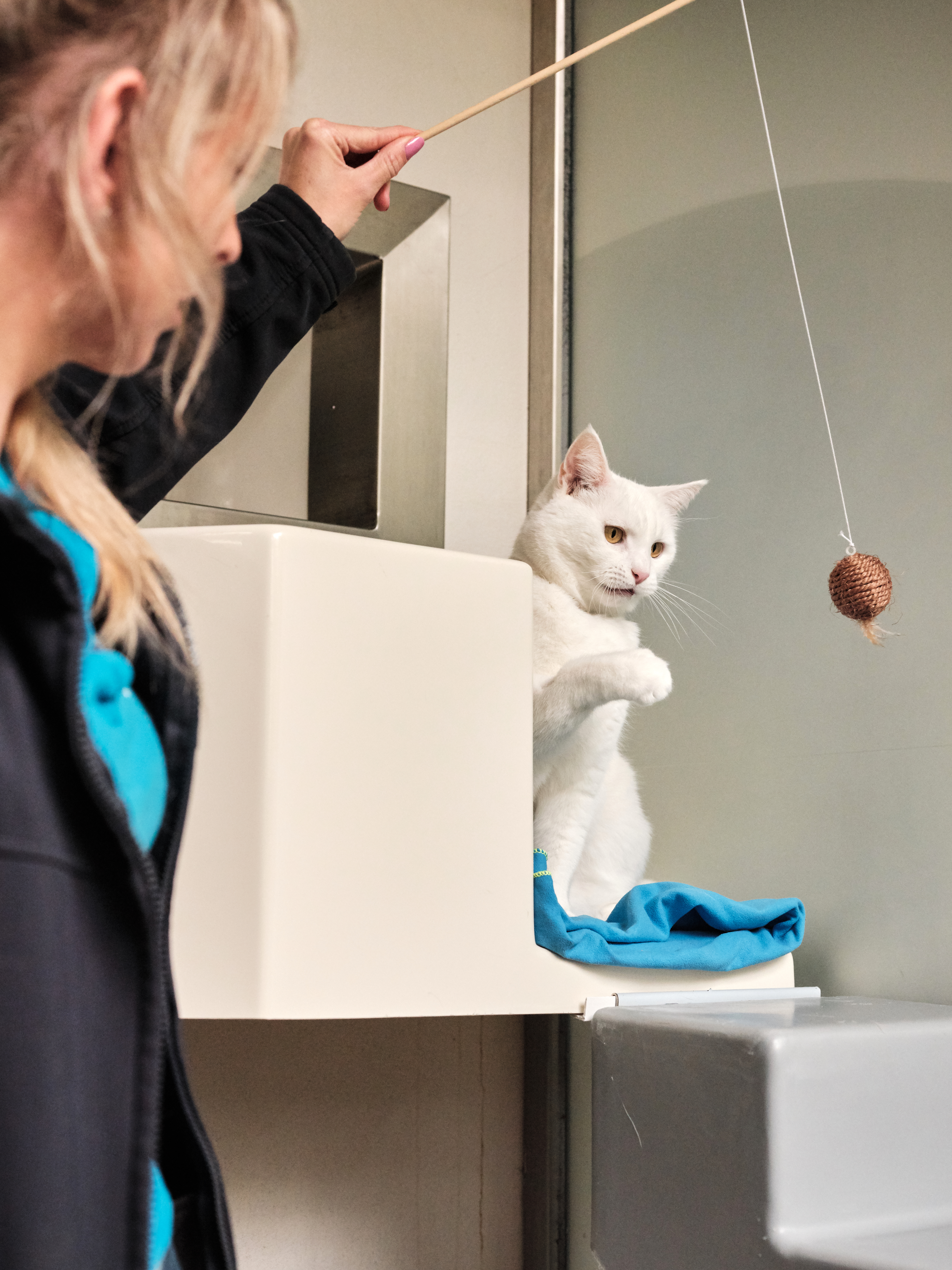 Not local to Battersea? Contact your local rescue centre
Rescue centres have access to lots of potential new loving homes for your cat, and the time, resources and expertise to find them the one that feels like home again.
We know that circumstances change quickly, but rescue centres like Battersea and lots of others are here to help, so please don't be afraid to get in touch.
Who will look after my cat when I'm no longer here?
Battersea's Forever Loved is a free service that will ensure your cat will be looked after should you pass away before them. By signing up you can be reassured that, should the worst happen, Battersea will be there to care for and rehome your pet, and give them the happy, loving future you would want for them. Find out more and how to join our Forever Loved Service.
Report it
If you find a cat and Battersea is one of your local rescue centres you can report it to us and we will do our best to ensure a happy reunion or rehome.