Newborn kitten, Daffodil, springs into life during lockdown thanks to foster carers' quick thinking
24 APRIL 2020
24 April 2020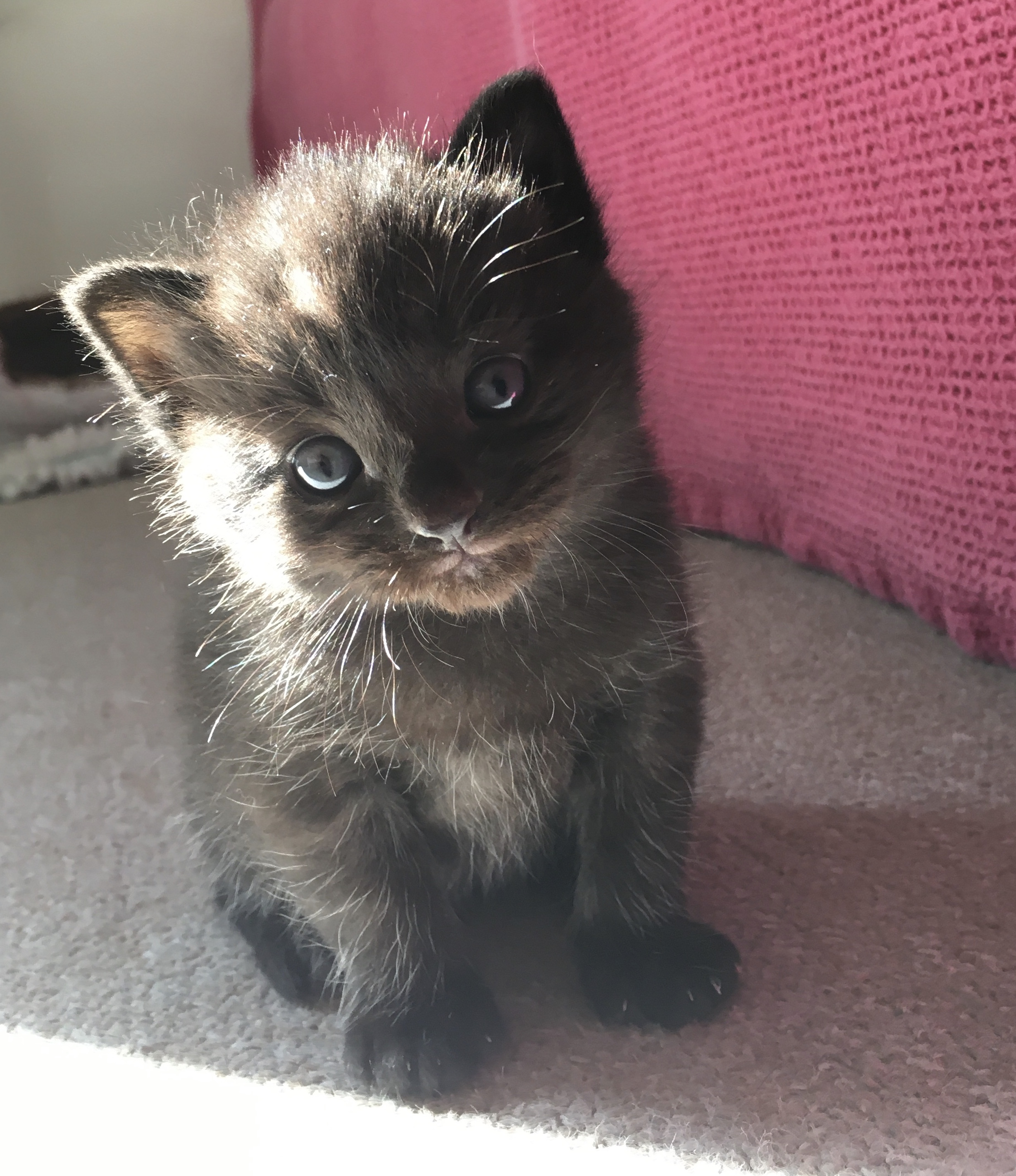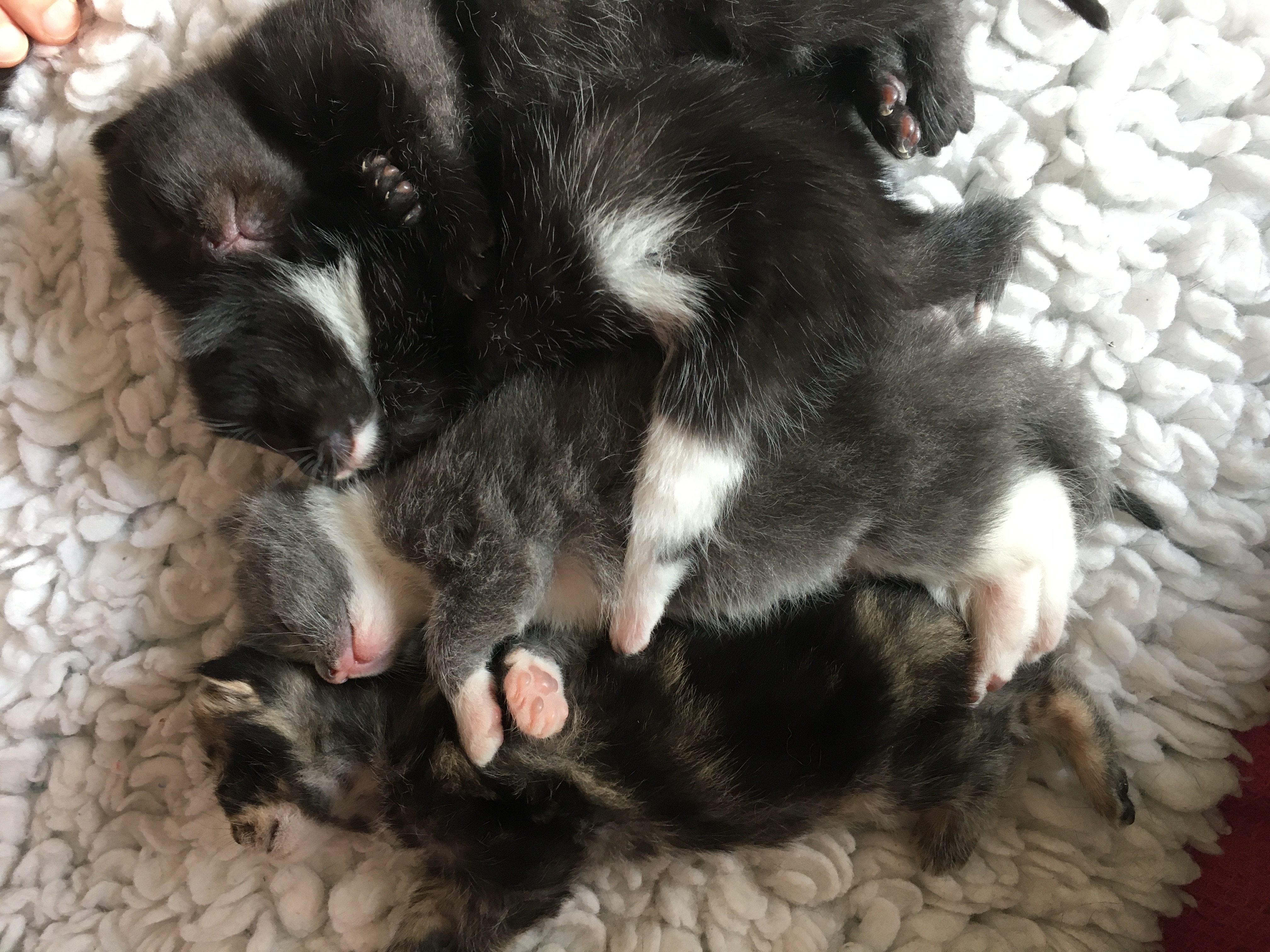 The country may be in lockdown, but the unconditional care of Battersea's temporary foster carers remains unfaltering. Husband and wife team, Nikki Danford and Peter Browne, had to think on their feet recently when their pregnant foster cat, Lola, got into difficulty giving birth to her litter.
Having looked after more than 300 cats and kittens for Battersea over the years, Nikki and Peter were happy to provide a temporary home for Lola, who arrived at the much-loved animal charity's Old Windsor centre heavily pregnant, after being found living as a stray in a garden.
But the veteran foster carers were in for an experience they won't forget in a hurry when Lola began giving birth on the morning of March 26 in their West Sussex home.
When the third kitten of the litter arrived, Nikki and Peter could tell something was wrong. Kittens are born inside the birthing sac, which the mother cat must lick open before stimulating the kitten to breathe independently. But try as she might, the sac containing kitten number three was proving impenetrable for Lola.
Nikki says, "The kitten was lying there in the sac, lifeless, while Lola tried frantically to open it, but we knew she had to concentrate on the impending arrival of kitten number four.
"Peter realised what was happening and stepped in to help by gently removing the sac from around the kitten and rubbing him until he came to life and, thankfully, started to breathe on his own.
"Lola is such a friendly girl, she didn't mind us getting involved and touching her baby to give him the help he needed. I think she understood and, if she was able to, I think she would have said thank you."
With kitten number three now breathing on his own, Nikki and Peter were able to watch the arrival of two more tiny bundles of fur. Once all five were safely delivered, there was only one theme 'springing' to mind when it came to thinking of names. Lola was now a proud mum to Primrose, Poppy, Tulip, Lily and, having quickly recovered from his dramatic arrival, little Daffodil (known affectionately as 'Daff').
As lockdown continues across the country, the couple are making the most of watching Lola's litter grow into playful, confident kittens before they go to the new homes already lined up for them.
Nikki says, "I'm quite content sitting at home with the company of Lola and her beautiful babies lying on the couch while I prattle away on my keyboard. I try not to focus on the negativity and sadness currently taking over the world and instead just look at the little family I am blessed with being able to care for during these strange and surreal times. I'm just grateful we were there to help as I don't think Daff would have made it otherwise.
Now more than ever Battersea need funds to enable the charity to continue to be here for every dog and cat. Not just the dogs and cats being cared for at its centres, or the many more on temporary foster with dedicated volunteers, but those who will undoubtedly need help over the coming weeks and months. To help Battersea care for more dogs and cats like Daffodil, visit http://donate.battersea.org.uk.
ENDS
Notes to editors
Battersea is fortunate to have an existing network of over 1,000 volunteers and foster carers and we have now suspended new applications to foster while we prioritise working with existing staff and volunteers to provide ongoing care for our dogs and cats during the Covid-19 outbreak.
The best way to support Battersea currently is by making a donation at
to help us continue to be here for every dog and cat.
The generosity of players of People's Postcode Lottery also supports the work of our volunteers and foster carers. For 2020, Battersea has been successful in securing funding of £750,000 from People's Postcode Lottery. This support, through Postcode Animal Trust, will go towards Battersea's Volunteering & Fostering programme and Battersea Communities project.
Since Battersea was founded 160 years ago, we've been committed to helping every dog and cat that needs us - championing their rights, loving their imperfections and expertly caring for them. And for as long as we're needed, we'll be here. Because rescue is our favourite breed.
Battersea directly helps over 5,000 dogs and cats across its three centres and uses its expertise, influence, and voice to help thousands more animals all over the country and across the world.
Battersea cares for an average of 240 dogs and 145 cats across its three centres at any one time.
There is no time limit on how long an animal can stay at Battersea, but the average stay for a dog is 34 days and 25 days for a cat.
In addition to the site in South West London, Battersea also has two other centres based at Old Windsor, Berkshire and Brands Hatch, Kent.
For further information on Battersea, please visit www.battersea.org.uk
Follow Battersea on Twitter @battersea_ or facebook.com/Battersea